Nothing tastes better in the morning, or mid-afternoon, or even a late night snack, than a hearty bowl of homemade granola! Homemade granola is extra healthy because you can control the ingredients! Get creative and you can make a lot of different versions of this basic recipe to suit your tastes and health concerns.
My recipe calls for honey to sweeten the granola and I'd suggest getting the best local, raw honey that you can find. Check your local health foods store or even a local farmer's market if you can. Some national grocery store chains carry raw honey as well. If all else fails, just get any honey you can find.
I'm pretty spoiled when it comes to the honey. My father-in-law brings me the best-tasting, local, raw honey, from an Amish farm in Montana when he comes out for a visit and it's tasty! I make all sorts of different versions of granola based off what ingredients I have in my pantry at the time, but here is my basic go-to recipe:
Katrina's Homemade Granola Recipe:
2 18oz cartons of old fashioned oats
1 cup of peanuts
1/2 unsweetend coconut
1/3 cup chia seed
1/2 tsp salt
1/2 tsp cinnamon
1 cup local, raw honey
2 cups natural peanut butter
1/2 cup raisins – add after cooking and cooled
1/2 cup cranberries – add after cooking and cooled
First combine all the dry ingredients and stir with a big spoon in a large bowl. Second, mix the wet ingredients in a different bowl and microwave for 1 minute. Whisk the warmed wet ingredients until well mixed.
Combine the wet ingredients along with the dry ingredients. If you are having trouble stirring, go ahead and use your hands to mix it up well! Finally, pour mixture onto bar pans so they are a nice thin layer. Use as many bar pans as needed to make sure the layer is not too thick. I typically need 2-4 bar pans depending on how much I'm making.
Bake for 30 minutes at 375 degrees. Make sure to rotate your pans in the over and stir your granola after it has cooked for 15mins. Once baked, let them sit out until they are completely cooled. Add your final ingredients – the raisins and cranberries and mix. Store your homemade granola in an air tight container for up to 6 months. The above recipe makes a decent amount of granola – but for my family of 5, it usually lasts about 2 weeks at the most!

Frugal Tips To Save Money Making Homemade Granola:
Make sure to buy your ingredients when they are on sale.
Use coupons and stack with any Ibotta rebates you can find to maximize savings. New to Ibotta? Read this post to learn Why You Should Use Ibotta To Save Money and how it can earn you cash at the grocery store.
Buy in bulk and start building your stockpile when you find homemade granola ingredients at their rock bottom price. Wondering how to build a stockpile? Read this post – 5 Simple Steps to Build a Stockpile to learn how!
You can double or triple the recipe to save time! Homemade Granola stores great in an air-tight container for up to 6 months. I like to store my homemade granola in a glass container on my counter.
Homemade Granola Substitutions & Add-Ons:
Try the above recipe first, but if you are anything like me, you may realize that you have most of the above ingredients but maybe not all of them. Here are a few common substitutions you can make that still work great! As well as some add-ons that taste great too!
Substitute the honey with apple juice, or even orange juice. It won't come out as sweet – but it still works! I've even used peach juice (but I left out the peanut butter with and added a little extra peach juice – I didn't think peach and peanut butter was a good combo).
I've added chocolate chips, white chocolate chips, or even peanut butter chips, by the handful (after it's cooked and cooled so they don't melt).
You can also add M&M's after is cooked and cooled.
Try different nuts – you can use any type you like instead of peanuts. Cashews, walnuts, chopped almonds, etc.
If you don't like coconut, you can leave it out, but I love how it tastes. You can use sweetened coconut if you prefer, which is easier to find at the grocery store than the unsweetened kind. They both taste great! Use whichever one you prefer.
Enjoy! Let me know how it tastes if you give Katrina's Homemade Granola a try! I'd love to know how you made it, if you added anything, and how you put your own spin on the recipe!
Other Make Your Own Pantry & Cleaning Staples Recipes:
Let's Stay In Touch!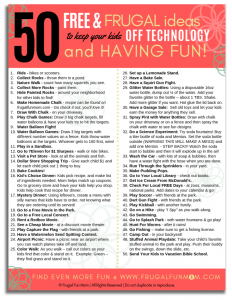 I'd love to stay in touch with you! The best way for me to keep up with you is by having you join my VIP Subscriber List! Subscribing via email is the best way to stay connected to all the fun stuff happening here at Frugal Fun Mom, and I invite you to join many other frugal moms like you who receive our regular updates! My VIP Subscriber list offers a exclusive deals, fun ideas and encouragement for everyday mom life! Many of my readers tell me that the VIP exclusive content is their favorite thing to receive each week! When you subscribe, you also get instant access to one my exclusive FREE goodies – 50 Fun & Frugal Ideas To Do With Your Kids – as my gift to you! Sign up below!
Photo by Rachael Gorjestani on Unsplash