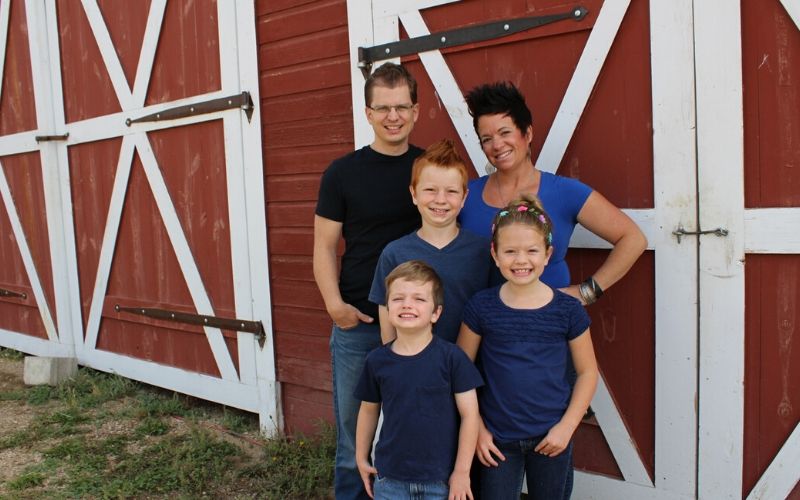 I'm Katrina, a mom with a mohawk, who loves glitter and brownies, running with my pup, and values deep relationships with like-minded moms. I love nothing more than spending time on a long walk with a dear friend out in the sunshine! Frugal Fun Mom is my virtual 'long walk with a dear friend' and I can't wait to get to know you! I've been called "crazy" more times than I can count, but I know that "fun" is really a better description of who I am.
I'm an energetic mom who rises early and drives all "night owls" crazy with my high level of energy first thing in the morning (so sorry to all the night owls out there). I'm full of spunk, a little bit of sass, and I fiercely love my hubby and kids about as much as I love to have a good time – on a budget! I always have a coupon and am constantly looking for frugal, free, or very inexpensive ways to have fun – especially on those days when the kids are out of school for another silly holiday.
I believe life is awesome – and can be even more fun when you find frugal things to enjoy! I believe you can make the things you need (often with items you have lying around at home), you can coupon to save money (it just takes a little effort), you can plan your menu a week in advance to save money on food (just takes a little extra time), you can teach your kids to do chores to help around the house (the whining will stop eventually), and so much more…you can do it momma, so much more than you realized…and I'm here take your hand and help you through the day-to-day of making all this happen.
How Frugal Fun Mom Began
I started Frugal Fun Mom when I woke up one day and realized that I wanted to contribute financially to our household income, without sacrificing being a mom first. I spent a lot of time soul searching and trying to understand what God wanted me to do with my life now that my kids were all in school full-time. During that time of deep contemplation, I felt God nudging me towards sharing my heart with other moms online and thus, Frugal Fun Mom was born.
In my other life, before kids, I was a graphic designer and business owner and loved most of it. When kids came, I took a break and 12 years later, when I thought about going back, I realized my heart had changed and I no longer wanted to design for a living. My heart longed for a deeper and more fulfilling job. God called me to create an online space to share my heart with moms, and inspire them to love their mom lives and to be the best moms they can be! I certainly don't have it all figured out – by no means am I an expert mom – I'm just trying to humbly "make it work" and sometimes along the way I discover some tricks that surprise even me.
Join me as we walk this "mom" life together!
Now that I've told you a lot about me, I'd love to connect with you!
Join the Frugal Fun Mom Community:
Join me and bunch of other moms who understand that this "mom life" can be hard, but with each other we can make it! I send a weekly newsletter to touch base and let you know what crazy things I'm into. Plus, I also send some valuable tips to calm mothering chaos, and help you save money and time too! Sign up now with your email address, and as my gift to you, I'll send you my exclusive freebie – 50 Frugal Free Fun Ideas For Kids. This freebie was designed as an answer to when your kids say, "Mom, I'm bored!" Remember, you can unsubscribe at any time.
I'd love to know more about you! Jump on my Frugal Fun Mom Facebook page and say hi, or send me a tweet, or post on my Instagram! Or you can email me at Katrina@FrugalFunMom.com. Don't forget, I'd love to pray for you – so please let me know how I can here!