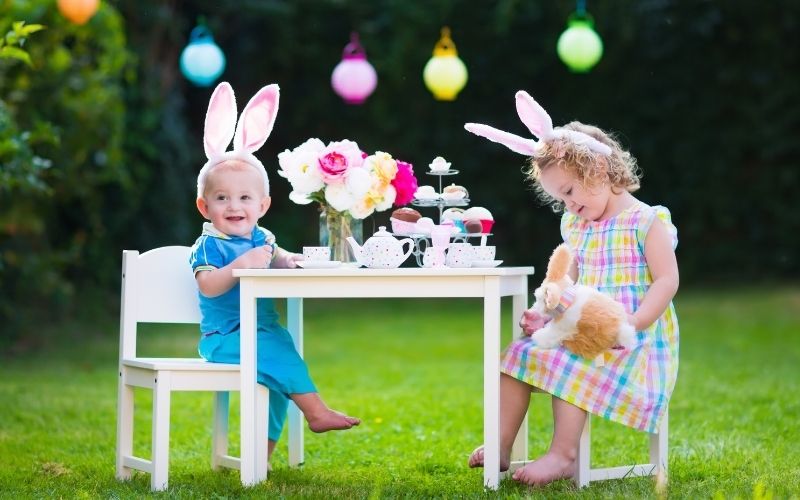 This post may contain affiliate links. Read my disclosure policy here.
Are you looking for Easter party ideas for kids? Maybe you are looking for easy Easter party ideas for things like Easter party games, decorations, activities, crafts, and goody bags? Don't miss these fun, simple, and easy Easter party ideas for kids!
Wondering how to throw an Easter party for your kids? Like what games and activities can you play at an Easter party for kids? What decorations can you set up that are easy to make and won't take a long time to put together? What can you give kids for their goody bags that are creative and fun?
I was wondering all those same things too! Then I got to thinking about how much fun it would be host an Easter party for kids and I wanted to come up with some fun ideas of how I might go about doing just that!
WISH PLANNING A PARTY WAS A PIECE OF CAKE?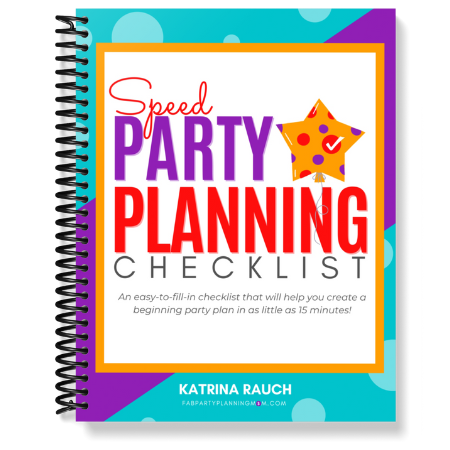 Now it can be! Let me help you begin the planning process with our easy-to-fill-in checklist. Our Speed Party Planning Checklist will help you begin creating a basic party plan in as little as 15 minutes! It's a game-changer - get it FREE for a limited time!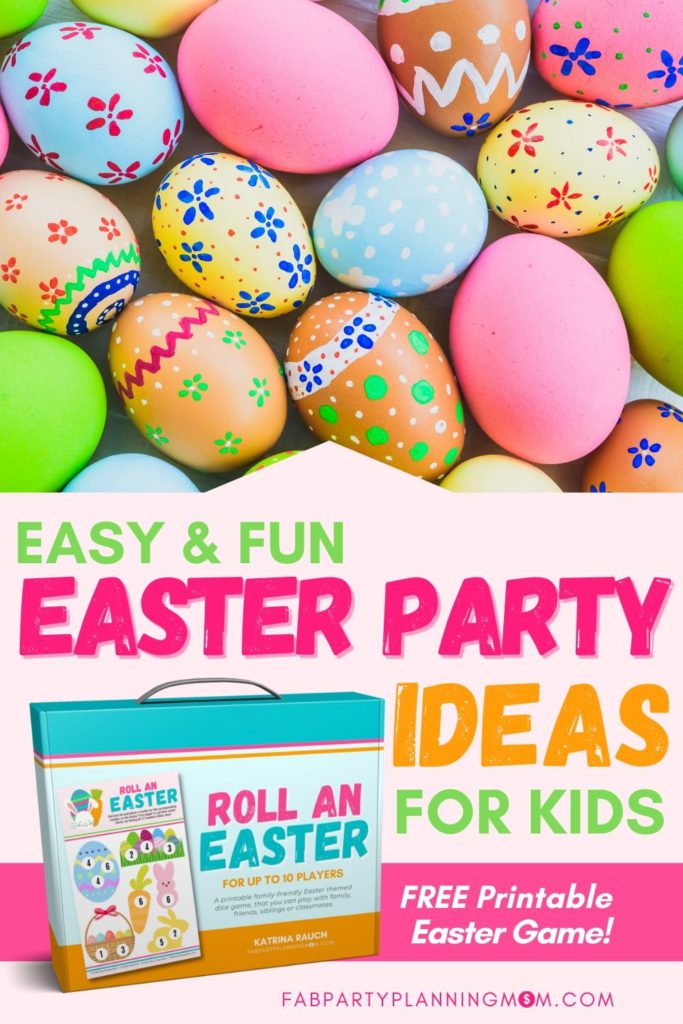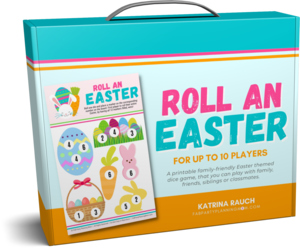 Free Easter Party Game
Before we get too far into this post, you must snag my Roll An Easter game! It's a silly dice game that you can play with up to 10 players and is perfect of kids of all ages.
All you need is a single die and printed game boards. You can snag my Roll An Easter game right now – it's FREE for a limited time!
Easter Party Ideas For Kids & Planning Help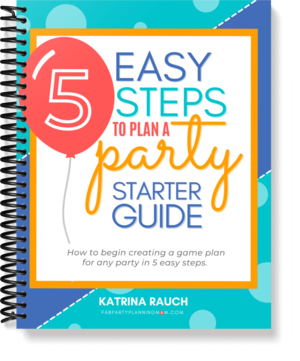 Before I dive in, if you are looking for a great tool to help you plan this Easter party, then make sure to grab my 5 Easy Steps To Plan A Party Starter Guide.
This starter guide is perfect if you are new to planning parties and want a tool to help walk you through the basic essentials you need, for all great parties. The best part, it's my FREE gift to you.
If you've thrown a few parties already and feel like you understand the basics of party planning, then you'll want to skip my starter guide and jump right to my Speed Party Planning Tool Kit.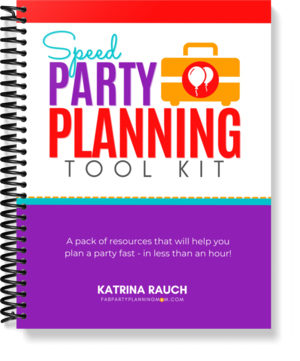 This tool kit gives you all the tools you need to get your party all planned out and on paper. Which is all really important step to planning a great party. Getting all your ideas on paper.
If you are a visual person, like me, you'll love how putting all your ideas on paper makes it so much easier to see that the party you thought was going to be so hard to plan, is not nearly as big of a mountain to climb as you once thought.
Grab your copy of my Speed Party Planning Tool Kit right now.
Easter Party We Had Last Year
My two youngest kids love to hang out with little kids, and now that they are a little bit older, they are excellent babysitters in our neighborhood. Both of them adore little kids, and thankfully we live on a street filled with a lot of very little kids. Every Easter, my kids like to host an Easter egg hunt for all the little kids on our street.
They buy the candy, they stuff the Easter eggs, they plan the games, they entertain the kids, they even help them hunt for the eggs or carry their over-filled Easter baskets. After the egg hunt is done, they also help all the little kids open up all their eggs and discover the candy inside!
It's so much fun to watch your kids get older and pass down the fun traditions that we've had for years in our family, with other kids in the neighborhood. Plus, the best part, it was all their idea! As a mom, who loves parties, it gives me such joy to see my kids enjoy parties too!
Easy Easter Party Ideas For Kids
If you want to host an Easter party for the kids in your neighborhood, or for your family to include their siblings and cousins, or even if you are the room mom and need to plan the classroom Easter party, then you have come to right place.
I'm going to share Easter party decorations that are simple to make, some exciting Easter party games and activities, and also some very easy-to-make Easter party food that won't be hard to make.
Here at FAB Party Planning Mom, we love to celebrate life on a bargain, and it's my mission to make celebrating with your kids, easy for you. Because I'm a busy mom too, I know that if it's time-consuming and tiresome to have a party, then we'd never take the time to do it.
5 Essentials For An Easy Easter Party For Kids
Simple Easter party decorations
Tasty Easter party food
Exciting Easter party games & activities
Necessary Easter party goody bags
Easy-to-make invitations
Simple Easter Party Decorations
When you are planning an Easter party for kids, you always need to remember one thing – kids care more about the fun they will have, than they do about the decorations. Do yourself a huge favor and keep your decorations very simple. Simple for you to put up, and simple for you to make.
A cute Easter banner, some springy colored streamers, and a some matching balloons is all you need to create a festive feeling for the kids.
Tasty Easter Party Food Ideas
Another great Easter party idea for kids is to serve tasty food that is simple for you to make. I mean, no one wants you to be stuck in the kitchen for hours and hours making food – I want you to be enjoying the party and the guests. Do yourself a huge favor and keep your party really easy.
Make a batch of cupcakes that you frost and add bright colored sprinkles to – then consider adding a cute Easter themed printable cupcake topper. Remember that your party will most likely include some candy, so your guests don't need to have a wide assortment of sugary goodies as well, just choose one.
I'd also suggest serving some savory snacks, like carrots and celery sticks, as well as some Annie's bunny shaped cheese crackers – basically, they are the bunny-shaped version of goldfish and they are perfect for this party because of their shape! If you can't find them, you can serve cheese balls and call them bunny tails – which would also be perfect!
WISH PLANNING A PARTY WAS A PIECE OF CAKE?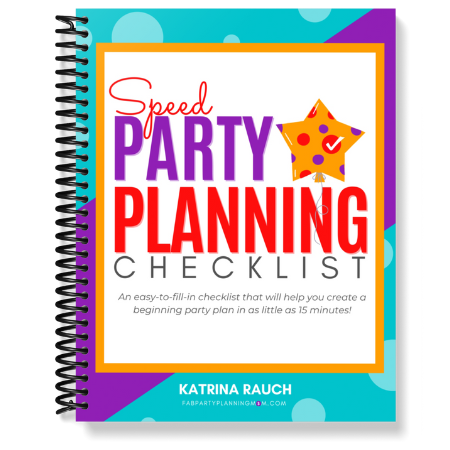 Now it can be! Let me help you begin the planning process with our easy-to-fill-in checklist. Our Speed Party Planning Checklist will help you begin creating a basic party plan in as little as 15 minutes! It's a game-changer - get it FREE for a limited time!
Instead of packaged drinks, just make a big batch of my favorite Flavored Water.
Exciting Easter Party Games & Activities For Kids
Now the fun part – the games and activities! This is where you want to spend the bulk of your budget. Again, remember, kids don't care about the decorations, but they will always remember how much fun they had at your party. Make sure your party is fun!
You can look on Pinterest for Easter games, or you can make up your own. I'm also going to share my favorite Easter party games for kids that all kids will enjoy.
1. Easter Egg Hunt
Have a traditional Easter egg hunt by filling plastic Easter eggs with candy and hiding them around your yard for kids to find. You can control how many eggs each kid gets by assigning a specific color of egg to each child.
Make sure you hide an equal amount of eggs per color. This technique works great when you have kids of all ages at your party. If all the guests are similar ages, you may not have to worry about limiting the number of eggs they can find.
2. Chocolate Easter Bunny Hunt
As part of your Easter egg hunt, you can also have a chocolate Easter bunny hunt. All you need to do is hide bigger chocolate Easter bunnies in harder-to-find places than just eggs scattered on the grass.
When I was a kid, my grandma would always hide a chocolate bunny for each of the grandkids. She used to make them viewable from the ground, but challenging to get to. Which made the hunt even more fun! Tell your guests they can only find and keep 1 chocolate bunny per guest.
3. Dye Easter Eggs
All you need to do for this activity is have a bunch of hard-boiled eggs ready to go. You'll also need to gather egg dye kits, or you can make your own using Koolaid packets mixed with water or white vinegar. The vinegar tends to make the colors more vibrant, but the vinegar smells bad, so it's up to you.
You can also use 1 cup of water and full Koolaid packet. Pick the Koolaid packets that have the brightest colors if you want your eggs to look the best. If you don't want to use dye at all, you can have the guests paint the eggs using acrylic paints or even watercolors, which would be the least messy of all.
4. Bunny Cake Hop
Kids love to do the Cake Walk at parties and this is no different! Make bunny track numbers from 1-10 that you tape in a circle on the ground. Have the kids hop around the circle on the bunny track numbers while music is playing. When the music stops, they must find a number to be standing on.
Then draw a number from slips of paper you make ahead of time. Whichever number you draw that guest is the winner and gets to choose a prize or a piece of candy, or even a "cake" that you have made. I don't know what it is about the cake walk game, but kids just LOVE this game!
5. Bunny Hop
Another fun game for kids who are a bit older. For this game you will need 40 ping pong balls, 4 portable tv trays, and 2 slices of bread, both slathered with peanut butter.
For this game, you will have 2 teams of guests challenging each other at the same time. You will set up both teams game space the same way. Each team needs a tv tray placed at one end with a piece of peanut butter toast on it.
About 10 feet away, you will set up the other tv tray with a bowl of 20 ping pong balls on it for each team. Have one player from each team get behind their tv tray. When you say go, have the players bounce a ping pong ball on their tv try and try to launch it over to the other tv tray and stick to the peanut butter toast.
Whichever team can get a ball to stick first from their 20 balls, gets a point. Keep track of points as each set of players faces off from each team. Team with the most points wins.
6. Bunny Hide Out
Another fun Easter party game for kids only takes a few supplies. You'll need a hula hoop, and a light-weight kick ball. When we played this game at our Easter party, I printed out a picture of a bunny and taped it to the ball.
Place the hula hoop 10 feet away and have all the kids line up. Have the first guest roll the ball and try to get it to land inside the hula hoop without rolling out. If they do, they get a point! Most points wins.
WISH PLANNING A PARTY WAS A PIECE OF CAKE?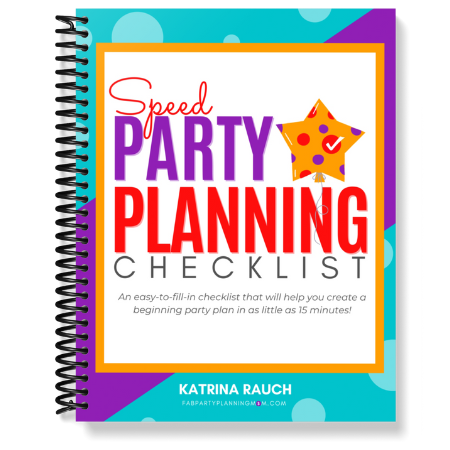 Now it can be! Let me help you begin the planning process with our easy-to-fill-in checklist. Our Speed Party Planning Checklist will help you begin creating a basic party plan in as little as 15 minutes! It's a game-changer - get it FREE for a limited time!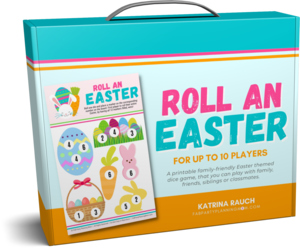 7. Printable Easter Game
Find a free printable Easter themed game online – like Roll An Easter – it's FREE for a limited time! This game is perfect for kids of all ages and you can use jelly beans as game markers.
Easter Party Goody Bags for Kids
You don't have to give out goody bags, but they are something that most party guests love to receive when they leave. For your Easter party, just give your guests a bag of Easter candy they found during the Easter egg hunt. You can put all their candy in a brown paper lunch sack with each guest's name on it. Simple and easy! Feel free to decorate the paper lunch sack as well. If you can find printable goody bag tags that would be even better.
Easy-to-make Easter Party Invitations
Now the only thing you have left to take care of is to make easy Easter party invitations. There are lots of ways to make invitations that won't take a lot of time, money or energy to make.
You can try to find a printable version on Pinterest. Or, you can send out free Evites. Or, you can simply have your child create one single invite with all the necessary information on it. Then, you simply take a picture of it and text it to all your guests. Or, you can hit up Target and buy some cute invites. It's up to you!
And there you have it!  A bunch of Easter party ideas for kids that are simple & fun!  I hope you have the best time hosting your Easter party. Remember, if you need any extra help planning out your party, don't hesitate to grab my 5 Easy Steps to Plan A Party Starter Guide or my Speed Party Planning Tool Kit.  You won't be sorry! 
Other Easter Posts You Might LIke: