Always compare prices to find the best deal – is today's Frugal Friday Tip #2. If you don't already make a habit of comparing prices on the things you buy, it's easy to get started!
You can start out comparing prices by going to the store and seeing how much the product is. Go to a few different stores and compare prices. Don't buy yet, you are just looking and comparing prices right now. Remember, be patient.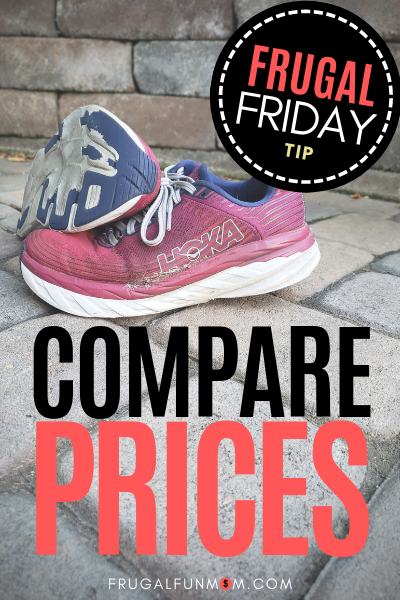 Comparison Shop Online
Before you buy, spend some time looking around online as well. Compare prices and utilize as many discounts, coupon codes, and sales that you can find – Honey is a great way to find all the best discounts and coupon codes online. Then, after doing all your comparison shopping activities, decide on the best place to get your item and make sure if you decide to buy online that you utilize a cash back site as well, like TopCashBack.
Before you buy anything – compare prices!
Click To Tweet
Let me give you a recent example of this in my own life. I love to run. Running is my favorite type of exercise, but it took me years to figure that out – in fact, I wrote a post about How To Find Exercise You Love – The Simple Secret if you want to read it.
Back to my story, I NEEDED new running shoes. Look at these old worn out shoes! I kept gluing to keep them together so I could go for one more run. Why, you might ask? Well, I love these shoes! Hokas are my favorite and trust me, I've tried so many different shoes – these are the best for me!
New Can Be Expensive
I love them, but they are expensive. I try to get as much mileage out of them that I can before buying a new pair. I'm always keeping my ears open for a sale, because honestly, Hoka doesn't do a lot of sales.
The day my big toe was rubbing the gravel road through my shoe, I knew I needed to give in and buy a new pair. Thankfully, it was a holiday weekend, so I went to my favorite local running store's Labor Day sale.
Sadly, I didn't find a deal on a pair. So, I waited. I looked around at few other stores hoping they might have the exact pair I wanted in the back room ready to sell at a discount.
Keep Looking For A Deal
I hoped that Hoka would come out with a new model of my existing shoe so that I could buy last years model on discount. That didn't happen either. I emailed a few stores asking if they had any sales on my shoe. Nope. Nada. No sale.
I struck out on all of my ideas. It was starting to look like I was going to have to pay full price – EWWW!!! I resolved to keep looking by doing some major comparison shopping online because I knew I needed to get a pair and soon!
I jumped on Honey to look for any deals or discounts that could be found online and Honey actually found me the exact pair I needed, in my size, for a $30 discount than any other place!
Holidays Are A Great Time To Buy
Not the color I wanted, but at this point, I just needed the shoe. Because it was a holiday weekend, I got a 20% discount, free shipping and I was able to shop from TopCashBack to get an additional 4% cash back on my transaction! I saved $42 off the sticker price by buying a different color, comparison shopping, and using a cash back site! It does pay to compare prices!
I hope I've inspired you to be patient, and shop around before you buy! I know you can find a deal if you really look and I'm here cheering you on! I can't wait to hear about some good deals you have found lately! Comment below and tell me all about it!
---
For more information on Must-Have Apps & Cash Back Sites That Save & Pay You Money – read this post now.
---
Let's Stay In Touch!
I'd love to stay in touch with you! The best way for me to keep up with you is by having you join my VIP Subscriber List! Subscribing via email is the best way to stay connected to all the fun stuff happening here at Frugal Fun Mom, and I invite you to join many other frugal moms like you who receive our regular updates!
My VIP Subscriber list offers a exclusive deals, fun ideas and encouragement for everyday mom life! Many of my readers tell me that the VIP exclusive content is their favorite thing to receive each week! When you subscribe, you also get instant access to one my exclusive FREE goodies – 50 Fun & Frugal Ideas To Do With Your Kids – as my gift to you! Sign up below!