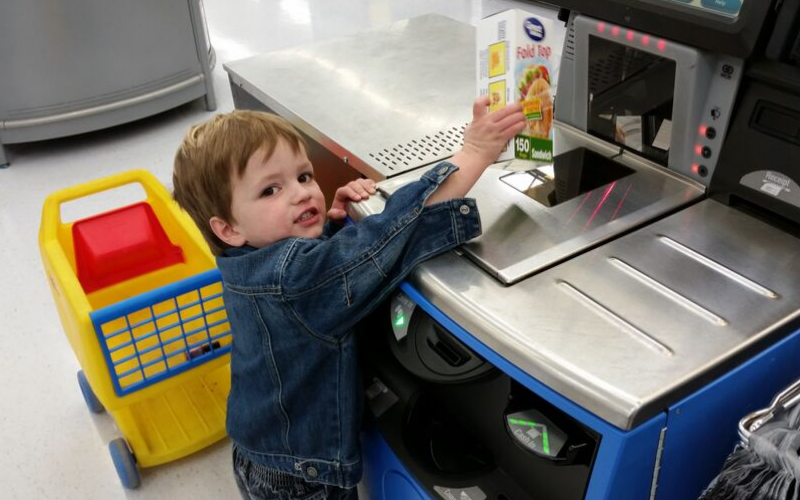 Today's Frugal Friday Tip #4 is to Always Use Self Check Out at the grocery store. Why you might ask? It's very simple – to make sure you are getting every deal you planned on getting.
You should always use the self checkout lanes to maximize savings at the grocery store!
Click To Tweet
Do you already use the self checkout lane at the grocery store? If you haven't already discovered the power of the self checkout lane at your favorite grocery store then you are missing out!
I love using the self-checkout lane for many reasons, but mostly because I can control the transaction and make sure that everything is ringing up properly. You would be amazed at how many items you purchase for the wrong price. There is power in using the self-checkout lane because you can question any item or price that you feel is wrong!
You would be amazed at how many grocery items you purchase for the wrong price.
Click To Tweet
Use Self Checkout When You Are Buying Sale Items
I also like to use the self checkout lane when I'm buying items that are part of a Buy 5, Save 5 sale or similar type of sale.  It's nice to be able to count your items as you scan them, just to make sure you actually purchased the right quantity, in order to get the extra savings. 
Don't you hate when you get home and look at your receipt and realize that you miscounted by 1 item and so you did not earn your additional savings? I've done this before and I get very frustrated – about as frustrated as when I forget to use a coupon (which I've done many times before as well)!

When you can scan your own coupons it's even better (at least at some stores you can in the self checkout lane)! That way can make sure that each one is deducting and doubling correctly. Be careful, because a lot of stores have item limits for their self checkout lanes, so make sure you check before beginning your transaction! 
You don't want to be the one person who is taking FOREVER in the self checkout lane because you have a very full cart and the person waiting in line behind you only has a few items.
Control Freaks Save Money
I told you that I'm a control freak right? If you are too, than you understand, and you know what? It's ok that we are control freaks – it helps us to save money!
Remember to be polite and mindful of the people around you, but it's ok to use the self checkout lane and make sure you are receiving every deal you are entitled to.
Allow Your Kids To Help
Because I know you like to save money, and love to spend time with your kids, you need to take your kids shopping with you! Allow your kids to shop with you, then when you use the self-checkout lane, they can help you scan items!
Yes, this can get a bit crazy, but if you are patient it can be really fun! Trust me, I know it can be a bit chaotic to take your kids to grocery store, but if you have to, try to make it fun for them. My kids love to help me checkout and I think it's great!
Take your kids to the grocery store with you and allow them to help you scan items at self checkout!
Click To Tweet
Daily Coupon Checklist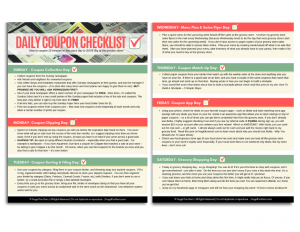 If you are just getting started with coupons and need help figuring out what you should be doing to get organized – then you need to get my Daily Coupon Checklist.
This checklist will help you organize your week so that you can choose one day to grocery shop and the other 6 days leading up to your shopping day, you do a simple task each day, in 10 mins or less to help you maximize your savings at the grocery store. Get my Daily Coupon Checklist by signing up below and I'll email it right to you!
Get the Daily Coupon Checklist to help you save money at the grocery store! – https://landing.mailerlite.com/webforms/landing/m8u6y8
Click To Tweet
Other Money Saving Posts You Might Like
Let's Stay In Touch!
I'd love to stay in touch with you! The best way for me to keep up with you is by having you join my VIP Subscriber List! Subscribing via email is the best way to stay connected to all the fun stuff happening here at Frugal Fun Mom, and I invite you to join many other frugal moms like you who receive our regular updates! My VIP Subscriber list offers a exclusive deals, fun ideas and encouragement for everyday mom life! Many of my readers tell me that the VIP exclusive content is their favorite thing to receive each week! When you subscribe, you also get instant access to one my exclusive FREE goodies – 50 Fun & Frugal Ideas To Do With Your Kids – as my gift to you! Sign up below!