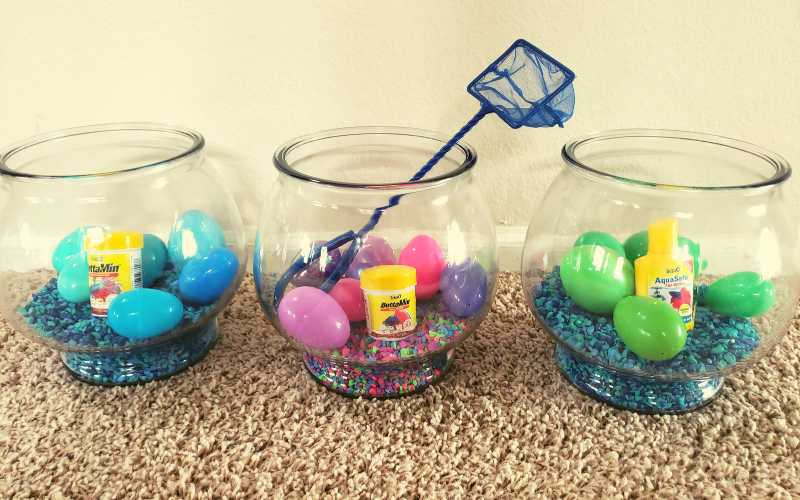 Are you looking for a unique and fun Easter Basket idea this year? Are you tired of the normal plastic eggs, filler grass that always gets all over the house, and the loads of candy? I admit, I like some of the candy (the Cadbury eggs are my best friend right now), but at some point there is just too much of it!
With the hopes of creating new memories, having fun with my kids, and eating a little less candy this year, the idea of getting all our kids a fish and making that their Easter basket was born! Unique Easter baskets are fun and such a great way to enjoy the holiday in a new way. Read on, I'll explain just how I came up with the idea and how you can do it too!
Fish bowls for Easter baskets? What?! Yes! Now, I like to consider myself pretty creative, but this idea was not all my own. All three of my kids were unexpectedly out of school. As they sat around trying to decide what to do for the day, they all started talking about a new pet – a Betta fish. The three of them pleaded with me to go to PetSmart and take a look at the fish and I'm always up for an adventure, so off we went.
We perused the fish isle, we oohed and ahhhed over all the beautiful Betta fish and then we started pricing out just how much this whole fishy idea would cost each of them. They debated and bargained with each other and ultimately we left the store with no fish and lots of hopes of getting one soon. As the day wore on, my kids had decided they would wait to see what the Easter Bunny brought them before using all their money for a fish and fishy supplies.
I kept hearing my youngest son talking to himself, which I later learned, he was talking to the Easter Bunny, hoping that she would bring him a fish for Easter. Which got me thinking, well, why not get them fish this year?! Later that evening, my husband and I made a quick trip to Walmart and decided the Easter Bunny would bring our kids each a fish bowl and some necessary supplies and they each could pick out and purchase their own fish.
How You Can Make Your Own Fishy Easter Basket:
Buy Fish Bowls – Walmart $6.97
Gravel – Walmart $2.97-4.97
Betta Fish Food – Walmart $2.12
Water Conditioner – Walmart $3.19
Fish Net – Walmart – $1.97
Plastic Easter Eggs – I already had these from previous years – but Walmart also had them as cheap as $0.98/12pk
Starburst Jellybeans – Walmart $1.98 and I found a peelie coupon for $1/off 2 bags, so I picked up 2 bags
Average Price Per Fishy Basket: approximately $14
I realize $14 is a lot for an Easter basket, usually I like to keep each basket and all it's contents below $5 each, especially when you are buying them for multiple kids in your household. This year was a little different for us, with a lot of things going on that we all needed an extra pick me up, so I felt the extra money on a long-lasting, unique, and super fun Easter basket idea was well worth it! I don't splurge often, but when I can and when I know the kids will love it, I will!
Hopefully I've given you an idea for an Easter Basket that your kids will enjoy as well! Or, maybe this fishy idea has inspired a different unique idea for you! I'd love to hear all about what you are doing for Easter baskets with your kids this year! Do tell! Comment below and tell me all your creative ideas! I can't wait to hear them all!
Have a wonderful Easter!