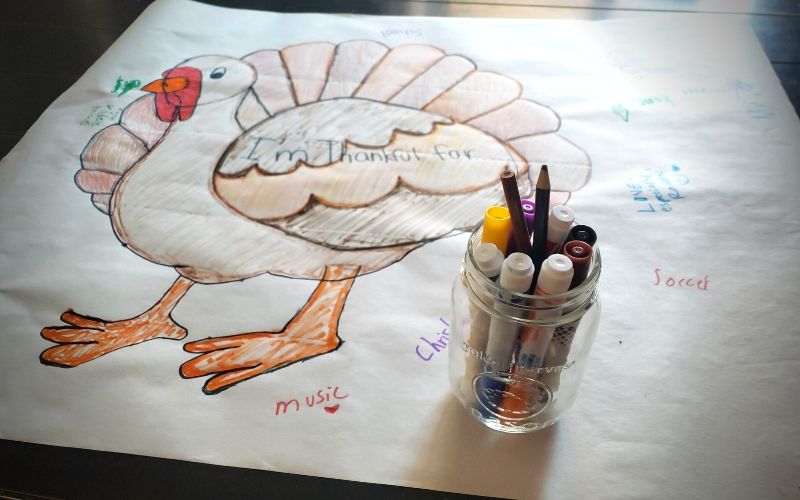 Looking for an easy Thanksgiving family craft that is simple and frugal too? Make a Thankful Turkey Tablecloth with your family!
Katrina, what are you talking about? I'm so glad you asked! A Thankful Turkey Tablecloth is a simple Thanksgiving craft idea for your family, and it doubles as an adorable Thanksgiving tablecloth too – plus, it's cheap to make!
Frugal Thanksgiving crafts are my cup of tea for sure! I love nothing more than doing fun things that won't break the bank, and this one is definitely that – cheap and entertaining! Plus, it's a wonderful way to keep your mind centered on all that you have to be thankful for.
Wait, Before I Dive Into This Post…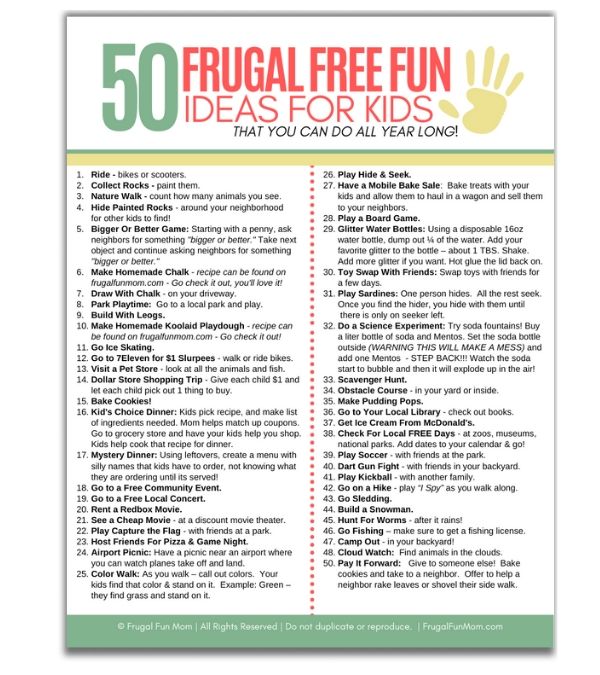 Wait! Before I dive into this post, I wanted to share my most popular freebie you might enjoy – 50 Frugal Free Fun Ideas For Kids – They Can Do All Year Long! Don't want your kids to spend so much time glued to a screen? Me either! Snag this great resource right NOW! This is one of my exclusive free goodies just for Frugal Fun Moms like you, and helps get kids off their screens and having fun instead! Snag my free printable, 50 Frugal Free Fun Ideas For Kids NOW!
How To Make A Thankful Turkey Tablecloth
My husband is the one who came up with this idea of the Thankful Turkey Tablecloth. I found him up late a few nights ago, with my daughter, drawing a giant turkey on a big piece of brown craft paper.
He found the picture of a turkey online and quickly sketched it out and then, together, the two of them colored it in. In the middle, he wrote the words, "I'm Thankful For…" and he placed it on our kitchen table. He then told my daughter to collect some markers and put them in a jar at the table as well.
The next day he told our family that during each meal time we are to write something we are thankful for and we would need to do this all week long. It's been a wonderful activity!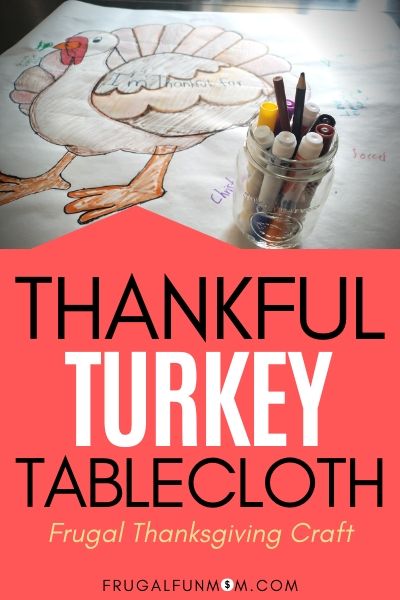 Focus On Being Thankful
What a lovely way to focus on being thankful this whole week – plus it's cute! I'm not hosting Thanksgiving this year, but this Thankful Turkey Tablecloth would be a great Thanksgiving table setting if we were hosting. Instead we are keeping it on the table all week and will probably save it as a keepsake for the years to come!
My challenge to you – make your own Thankful Turkey Tablecloth and spend the week being thankful for all that you have! Your kids will love participating in this and then you will have a great decoration either for your Thanksgiving table or you can hang it on the wall for Thanksgiving day.
Supplies Needed To Make a Thankful Turkey Tablecloth:
Big Piece of Brown Craft Paper – you can also use poster board, or even tape a bunch of sheets of paper together.
Markers, colored pencils or crayons
Pencil for sketching the turkey
That's it! Just draw a giant turkey in the middle of the paper and then have your kids help you color it. If you don't want to draw a turkey – instead, you could draw a giant pumpkin. Just make it easy and simple for you!
Then, each meal time, have your kids write out something they are thankful for!
I pray this simple Thankful Turkey Tablecloth activity blesses your family this Thanksgiving!
Comment below and let me if you tried this with your family. What did they think?
Other Frugal Fun Ideas For Kids
Below are few other frugal fun ideas for you to do with your kids:
Don't Forget Your Freebie
Before you go, don't forget, I have that list of 50 Frugal Free Fun Ideas for Kids that you can do all year long that you might want to snag as a handy free printable! You can can get it now by signing up below – I promise, it's a great list to print out and stick on your refrigerator for all those times when you kids say, "Mom, I'm bored!"