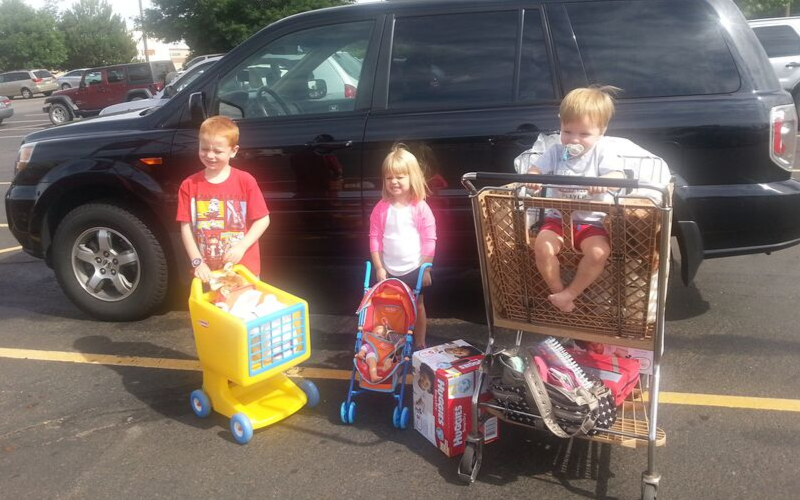 You must teach your kids how to coupon, especially, if you want to foster a love for saving money in them! Because I know you love to save money and use coupons, remember to teach your kids how to coupon too!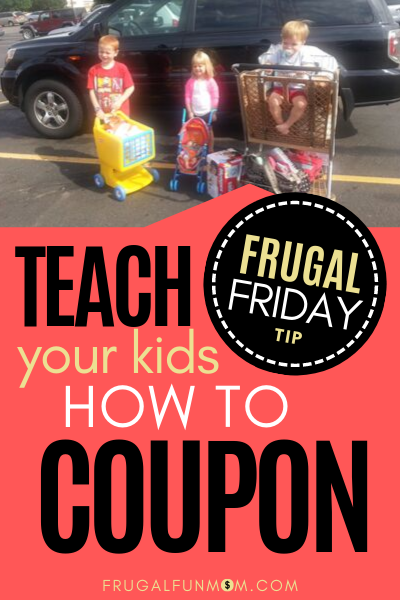 Great behaviors are taught and what better thing to pass along to your children than a love for saving money?! Right?
Great behaviors are taught and what better thing to pass along to your children than a love for saving money?
Click To Tweet
I'm a mom of three kids so I know how hard it is to take your kids to the grocery store, but I try to make it fun and educational for them! In order to keep my kids occupied and engaged at the grocery store, there are a couple strategies I like to implement. I like to give them each their own list, their own shopping cart, a free cookie, and even their own stack of coupons.
Daily Coupon Checklist
Before we dive in and discuss how to teach your kids to use coupons, are you wondering how to use coupons and plan your own grocery shopping trips? If so, you have come to the right place! I've created a handy printable, my Daily Coupon Checklist for you to print out and hang right on your refrigerator! My Daily Coupon Checklist includes step-by-step instructions of a simple task you can do in 10 minutes or less each day to help you start saving with coupons!
I just know you will love it! Sign up below and I'll email it to you! Oh and remember, if you ever have any questions, please reach out to me and I'll be happy to help – Katrina@FrugalFunMom.com.
Allow Your Kids To Push Their Own Cart
Call me crazy, not only do I think you should teach your kids to coupon, but I think you can make it fun too! I can show you how! Consider allowing your kids to push one of the child-sized carts in the store along with you! I would usually allow my young toddlers to push their own child-size shopping cart as long as they could demonstrate being able to stay right next to me in the store.
One of my local stores actually has child-sized carts for kids to use! I realize that not all stores offer these carts, but if you keep your eyes peeled, you can usually find one at a thrift store, or on VarageSale.
I actually found a very sturdy, yellow, Little Tykes shopping cart at a garage sale for $5 and I passed it down to all 3 of my kids! In fact, we just gave it to a neighbor recently, as my kids are now too big to use it! We took that yellow shopping cart to the store with us every single week.
Bring Along A Favorite Stuffed Buddy
My kids got such a kick out of bringing along a favorite doll or toy to ride along with them as they shopped. My daughter enjoyed grocery shopping with me so much that she asked Santa for a pink shopping cart one Christmas. Santa was so nice to find her a pink shopping cart! She and I both loved it!
I know what you thinking, Katrina, you are crazy! How in the world can I allow my toddler to push his own shopping cart around the store? He's going to run into everything! You know what? You are right, he will probably run into a few things, but this is a great opportunity to teach your kids and have fun too!
Tips to survive grocery shopping with toddlers: snacks, snacks, snacks!
Click To Tweet
One trick to keeping them engaged was making sure we either brought along a snack or we stopped to get a free cookie from the bakery!
Give Your Kids Their Own Shopping List & Coupons
Another trick was to make sure they had their own list to shop from and their own coupons. No, not real coupons that I was going to use at the store that day, but coupons (I usually gave them expired coupons). It helped them to feel like they had a job that was important! Plus, having to match up coupons to products on their list was a small glimpse into what couponing was all about!
Once you are doing shopping, I'd highly encourage you to use the self checkout, and let your kids help you checkout! What's more fun, as a kid, than scanning items, putting them in bags and helping to push cash into the machine? These things would've been a sign of a GREAT day for me as a kid!
I have many fond memories of grocery shopping with my mom when I was young. I remember the free kid cookies from the bakery – they were pink and had cherry chips in them and were so yummy! Does anyone else remember these?
Don't Forget The Free Cookie
Even if you don't remember the pink cherry chip free cookies, ask in your at your local grocery store if they offer FREE cookies for kids! Most likely they do something. I've know of a few grocery stores that offer a free piece of fresh fruit for kids! Just ask – you never know what you can get!
I've know of a few grocery stores that offer a free piece of fresh fruit for kids! Just ask – you never know what you can get!
Click To Tweet
Yes, I am a little crazy, but I do enjoy taking my kids to the grocery store with me, and I've found that they really enjoy helping me shop when I can give them a job to do! Plus it's teaching them about saving! I dare you try, and let me know how it goes (remember, FREE cookies from the bakery always help too)!
Because I know you love saving as much as you can at the grocery store, here are a few other posts you might also want to read:
Let's Stay In Touch!
I'd love to stay in touch with you! The best way for me to keep up with you is by having you join my VIP Subscribers List! Subscribing via email is the best way to stay connected to all the fun stuff happening here at Frugal Fun Mom, and I invite you to join many other frugal moms like you who receive our regular updates! My newsletter offers a weekly savings tips, fun ideas and encouragement for everyday mom life! Many of my readers tell me this weekly newsletter is one of their favorite things to read each week! When you subscribe, you also get instant access to one my favorite FREE goodies – 50 Frugal Free Fun Ideas For Kids – as my gift to you! Sign up below!