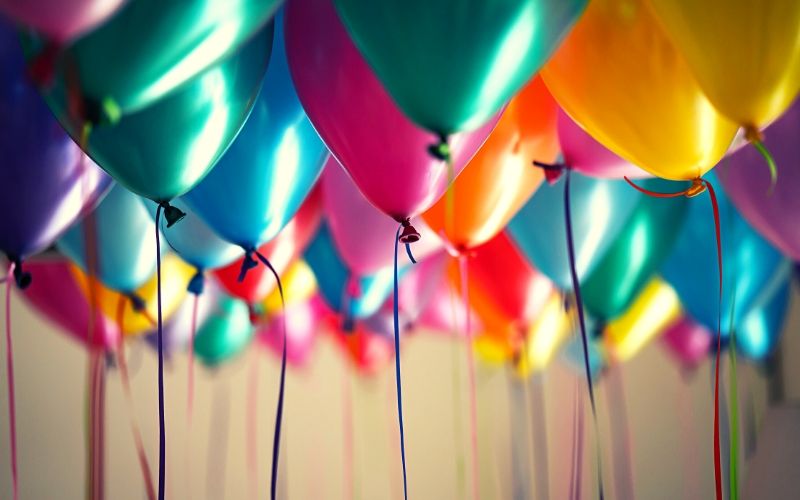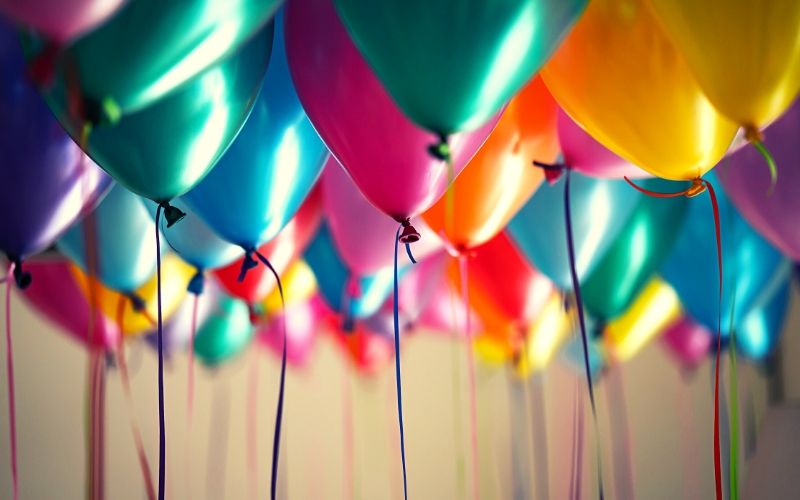 This post may contain affiliate links. Read my disclosure policy here.
Wondering how to throw two birthday parties on the same day in order to save a lot money? Does that even sound possible? It is! I'm sharing my top kids birthday party savings secret that will help you not only save money, but also time and we know how important both of things are when you are planning a party!
I'm going to let you in on a HUGE savings secret – one of the best ways to save money on birthdays parties is to throw two frugal birthday parties on the same day! And I'll show you how, plus, I have a wonderful planning tool that will help you pull it off!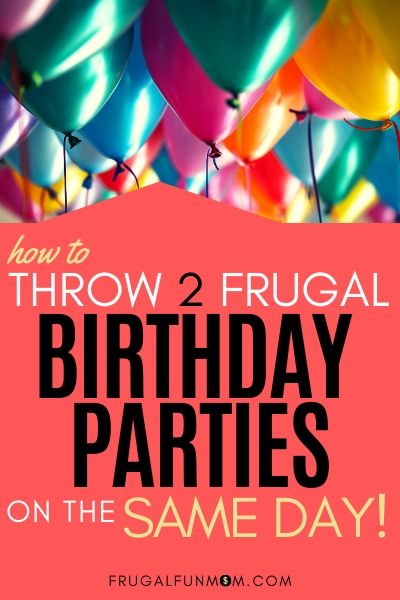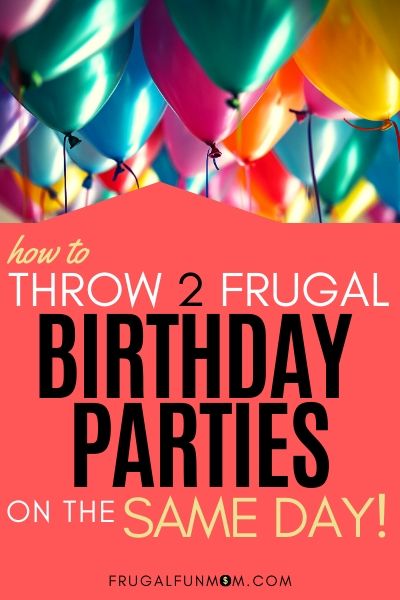 Panicked About Birthday Party Planning
Early summertime around my house is when I not only sweat the warm weather, but start panicking about what I'm going do to celebrate the birthdays of my two oldest kids, both of which have birthdays in the same month only 15 days apart. I'm not exactly sure how that happened (wait, I am, but still…).
WISH PLANNING A PARTY WAS A PIECE OF CAKE?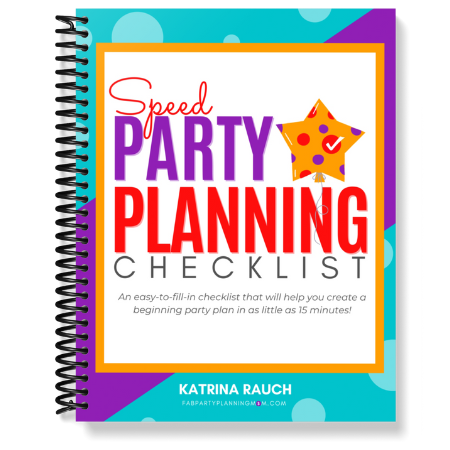 Now it can be! Let me help you begin the planning process with our easy-to-fill-in checklist. Our Speed Party Planning Checklist will help you begin creating a basic party plan in as little as 15 minutes! It's a game-changer - get it FREE for a limited time!
Save money by having an at-home birthday party for your child!
Click To Tweet
Save By Having An At Home Birthday Party
I am just like you, the type of mom that likes to save money. I prefer to host my own birthday parties, because I've found that it's a lot cheaper (and more fun) to have a party at my house than to go someplace extravagant.
Let's be honest, if money grew on trees we all just might go ahead and have our child's party at a fun, indoor trampoline park, or ninja course, or even a cupcake decorating studio, and let someone else wrangle the kids and clean up the mess, but, the reality is that those places expect you to pay for it too!
How to Save Money On A Birthday Party
Most of these places can be extremely expensive and yes, there are some cheaper places to go, but I assure you that they still won't be as frugal as throwing your own party at home or better yet, throwing two parties at home on the same day!
A couple years ago I figured out that I could save myself a lot of time and money by having BOTH of my kids' birthday parties on the same day – just a couple hours apart! Grab a cup of coffee and join me as I share some very simple, fun, and frugal ideas on how to throw two frugal birthday parties on the same day for cheap!
Save time and save money by having 2 birthday parties on the same day!
Click To Tweet
Home Birthday Parties Are A Lot of Work
In my life, time is precious, as I'm sure it is in yours. I have three kids and believe it or not, they each have a birthday every year. Ha ha! I know a lot of moms that choose to have a "friend birthday party" every other year for their kids and I think this is a great idea. It's one option to consider if you are overwhelmed by hosting a birthday party every year – which I completely understand! It's a lot of work!
For me personally, I truly enjoy creating a unique theme each year depending on what my child is into at the time, and turning that into a festive birthday party that they will never forget!
Just because I love throwing a great party, I also value time and saving money. Each year when I'm planning their parties, I try to come up with ideas that are both fun, but inexpensive. You don't have to spend a lot of time or money to have a great birthday party that your child will love – and so will all their friends!
Not Just a Joint Party
One year, I had a light bulb moment when I decided to try doing both parties on the same day. I'm not talking about a joint party at a park, where you invite both sets of their friends and serve cake and let them all play.
Although, I do think a joint park party is an excellent idea when you are very low on time and money. If you want to have a unique party experience, with two completely separate parties, with different themes, and friends, then read on, as that's what I'm going to share with you.
My two oldest kids are boy and girl and separated by 3 years. Which means, they have completely different friends and interests. Having a joint party for all their friends together just doesn't work. The girls are cute and petite and younger and want to do completely different stuff than the older, rambunctious boys.
You Only Have To Clean Once
When I decided to do both parties on the same day, I realized that we would only need to clean the house once to get it all party ready. If I could plan them well enough in advance I was pretty sure I could come up with a coordinating color theme that would work for both parties.
Which I did! Thus, the idea of planning both on the same day separated by only a couple hours was born!
How To Throw 2 Birthday Parties On The Same Day
1. Start Planning Early
Start planning up to six months in advance if you can, or at least start thinking about your ideas. The reason you want to start early is so that you can keep your eye out for good deals and sales on things that you might want to use for the party. Plus it's also a great time to download a free planning checklist to get all your ideas on paper.
Sometimes a quick stop to the Dollar Store or Target's Dollar Spot will inspire your ideas for your next party. When I was in the planning stages of my daughter's Cheerleading Party, I happened to be at the Dollar Store and stumbled upon a whole bunch of red and blue pom poms and that inspired the theme for her party.
2. Decide on Both Themes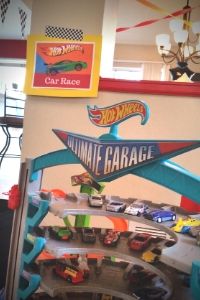 I pick party themes based off what my kids are into at the time. For example, if you child loves cars, have a Hot Wheels party, or if your child loves to build stuff, have a Home Depot Building Party, or if your child loves to bake, have a Cupcake Decorating Party. Or you can even consider doing a Virtual Sports Party!
3. Pick Colors That Fit Both Themes
I'd suggest picking two colors for each party and blend them together. For example, you can do a Cheerleading Party with blue and white and a Minute-To-Win-It party with red and silver.
A very frugal tip is to use color to decorate instead of using a character to decorate. What I mean by this, is rather than buying Thomas The Train themed decorations, go to your local Dollar Store or even Walmart and buy solid color decor that goes along with Thomas the Train like blue, white, green, and red.
Splurge on one big décor item that is Thomas the Train, like a big mylar balloon shaped like Thomas, or a Thomas shaped pinata. The one big item along with all the solid color décor will look great, cost less and have the same visual impact.
4. Duplication Is The Way To Go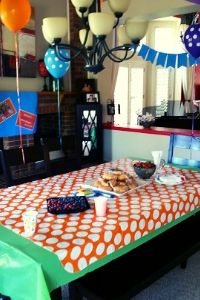 Don't be scared to duplicate! Reuse, re-purpose, copy, use again! It's ok to use a lot of the same decorations for the both parties – in fact, you should do that as much as you can! I like to keep my décor simple, but festive, and I love the visual impact that balloons make!
Use solid color streamers, balloons, signs, bright colored table cloth and coordinating solid color plates, cups, etc. You can use inexpensive decor items to make your party look amazing!
Splurge on a dozen balloons – this is a great way to decorate if you choose to use solid colors that match both parties! Polka dotted green, orange, magenta, and teal balloons (3 of each filled with the good helium from the party store so they will last through both parties), would work great for both a Science Party and Daddy Daughter Home Depot Party (I've done it and it worked great)!
WISH PLANNING A PARTY WAS A PIECE OF CAKE?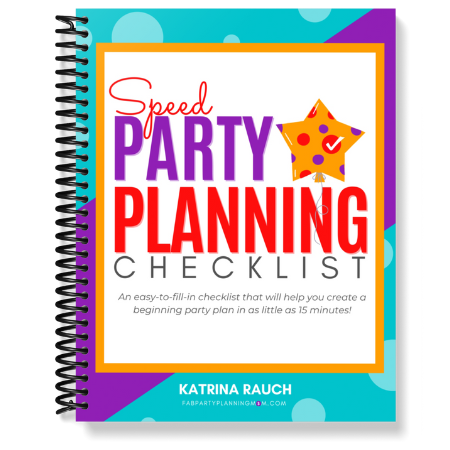 Now it can be! Let me help you begin the planning process with our easy-to-fill-in checklist. Our Speed Party Planning Checklist will help you begin creating a basic party plan in as little as 15 minutes! It's a game-changer - get it FREE for a limited time!
Or you can save even more by buying your own helium tank and a couple bags of balloons and making as many balloons as you want. Then save the tank for your next party!
Don't Let The Balloons Go Flat!
I have also purchased an at-home balloon helium tank and filled my own balloons on the morning of the party. This works great as well and trust me, the helium goes a long way, but I don't think it's as good of helium as you can get at the party store.
I've had my balloons start to go flat after just a few hours, so keep that in mind. If you choose to go this route, make sure to fill your balloons at the last minute and fill them pretty full – as they need a good amount of helium to stay afloat.

5. Make Double-Sided Signs
You can save a small pile of money by making your own double-sided signs. I've discovered that poster board is awesome! I like to pick up a couple (6-8) colorful sheets of poster board to match the colors of the parties, from my local Dollar Store (and at my store they are only $0.69 each). Divide a few of the poster boards into fourths and a few into halves and these now become the backgrounds of your homemade signs you will make.
If you have never heard of the online site called Canva.com – go check it out! Canva is a free design site that helps you make easy design projects. I make simple signs for the parties on Canva that go along with the party theme and then I glue them on the colorful poster board, and tadaa, beautiful homemade decorations!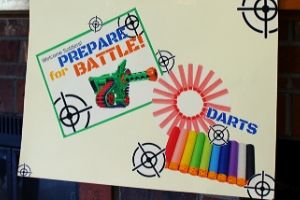 For example, at my son's Nerf Dart Party I searched Google Images for Nerf clipart like Nerf dart guns, Nerf darts, targets, etc and added fun text words like "Prepare For Battle" to make cheerful signs!
I like to make about 8-10 signs and hang them around the house or in the main room that the party will be in.
Just Flip The Signs Over!
The way to take this to a whole new level of savings is to make the signs double-sided – one side is for one party and the other side is for the other party (and because you have coordinating colors for both parties using the same signs will work great)!
The even better part, is that when your first party is done, you simply flip the signs over and you have all your décor ready to go for the second party!
6. Use What You Already Have
Another great way to throw two birthday parties on the same day is to look all over your house for things you can use that you already have! Don't go buy it if you already have it! I like the saying, "Make It Work," and I really try to make things work with what I've already got!
For example, one year we had a Pirate Party and I needed a treasure box with a lock, which of course I didn't have. My daughter had a recipe box with a lock on it that we transformed into a treasure box.
When you can't find what you really need laying around your house, ask for help online! Get on Facebook and join a local Free group, post what you are searching for and keep your fingers crossed that someone might have what you need just laying around their house. If that doesn't turn up what you need, ask your friends, and then try a local thrift store like Goodwill or Salvation Army. When all else fails, just order it on Amazon.
One year I was searching for pool noodles in November – absolutely the wrong time of year to find them in any of my local stores. I posted in a local Free Facebook group and it just so happened that one of my neighbors was getting rid of a bunch of pool noodles! Score! You never know what you can find for free simply by asking!
7. Pinterest is Awesome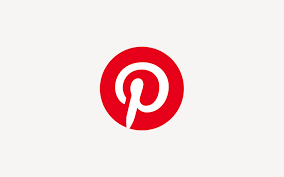 When you are stuck, get on Pinterest for inspiration! I find some of the best ideas on Pinterest and sometimes just getting on there and looking at pins sparks my creative juices to come up with some great ideas of my own!

8. Buy Party Supplies In Bulk
When you have colors nailed down, buy party supplies in bulk. At Walmart you can buy bigger packs (50qty) of bright and colorful plates, napkins, utensils, and cups for less than the character branded (8pk) plates. Go for solid colors that match both parties and buy the bigger pack. You will save money by being able to use the same supplies for both parties!
9. Save Time Cleaning
We both know that getting ready for a party is a lot of work. There is so much cleaning, cooking, prepping, decorating, etc, and that doesn't even take into account the overall emotional energy you put into having a bunch of kids over. Wouldn't it be nice to only have to do this one time and get two parties done?
Trust me, throwing two parties in one day, with all the same décor, and only having to stress and clean once is genius! You may even like it so much that you will have more than one birthday party on the same day for years to come!
10. Group Your Parties
Coming from the standpoint of wanting to save both time and money, the idea of grouping birthday parties is great! Even if your kids don't have birthdays near each other, you could pick a random day, and have both their parties on that day together. It would be fair because at least both kids get a party, it's not near either of their actual birthdays, and it's exciting and different!
Your kids don't have to have real birth dates close to each other to make this work. For our family the idea all came from the fact that my two oldest kids have birthdays two weeks apart, but my youngest son has a birthday 4 months apart from the other two.
2 Parties is Good, What About 3?
We have even talked about having 3 parties on the same day, which I've not tried yet, but if I do, I'll let you know! From the standpoint of saving time and money, I like the idea a lot. Plus, I would make sure to pick a day in the summer so the weather was nice and we could have most of the kids outside. I'm really considering this idea!
WISH PLANNING A PARTY WAS A PIECE OF CAKE?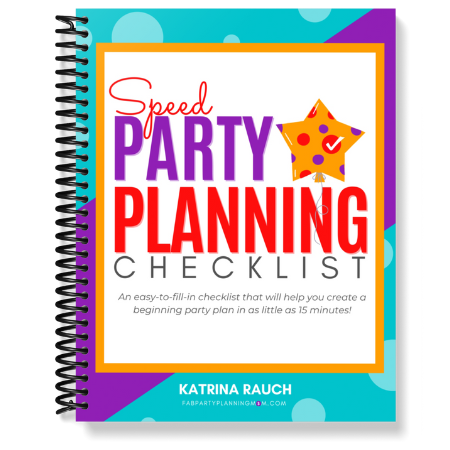 Now it can be! Let me help you begin the planning process with our easy-to-fill-in checklist. Our Speed Party Planning Checklist will help you begin creating a basic party plan in as little as 15 minutes! It's a game-changer - get it FREE for a limited time!
Hosting a birthday party at home is such a fantastic way to not only celebrate your child, but to save a lot of money! If you think you can tackle one party at home, go ahead and try throwing two birthday parties on the same day
I'm hopeful that you now know how to throw two birthday parties on the same day! I know it will be a lot of work, but I promise you that you will feel accomplished and relieved when it's all over! Plus, your kids will think you are a Rock Star and they will have amazing memories of an outstanding party with all their friends!
Tell Me All About It!
I can't wait to hear how your attempt at having two birthday parties in one day went! Please tell me all about it! Which themes did you decide on? What colors did you use? How did you save the most money? Comment below and tell me all about it!
Other Frugal Birthday Party Ideas
If you are looking for frugal birthday party ideas and inspiration, read these too!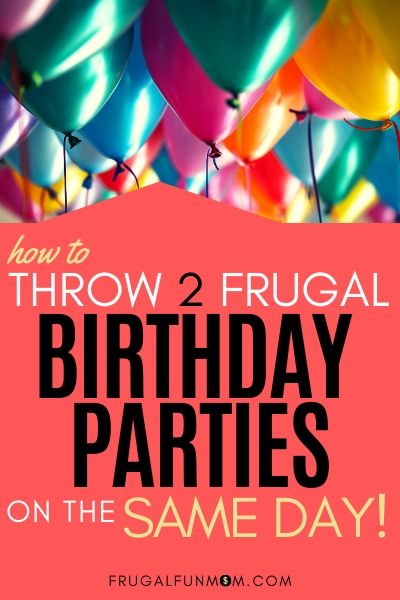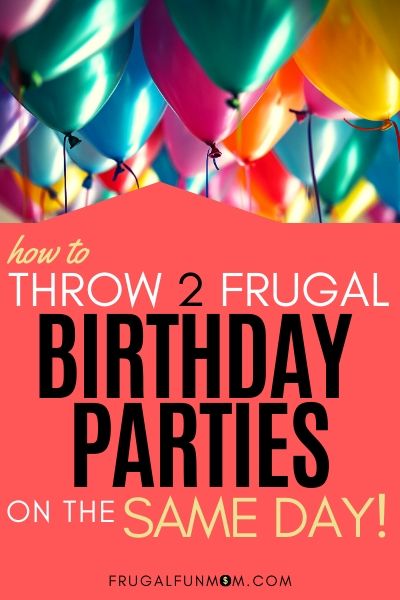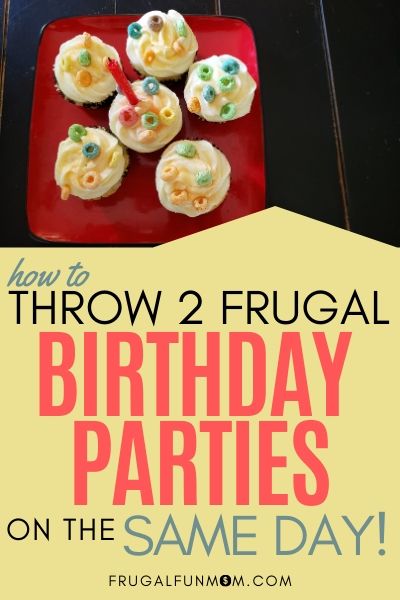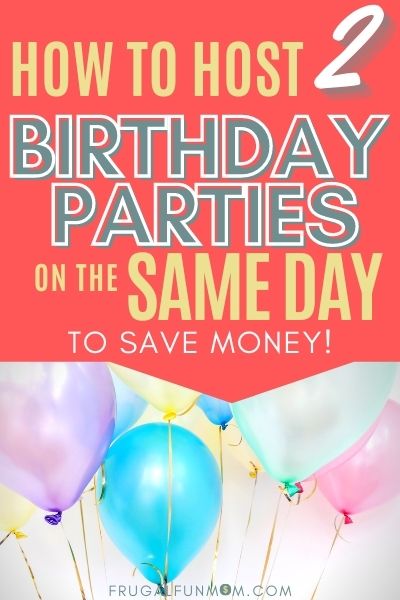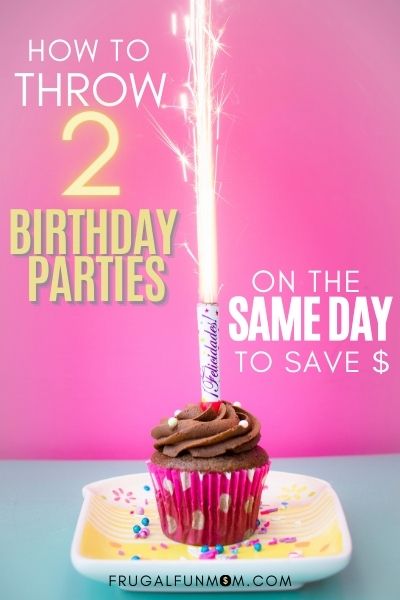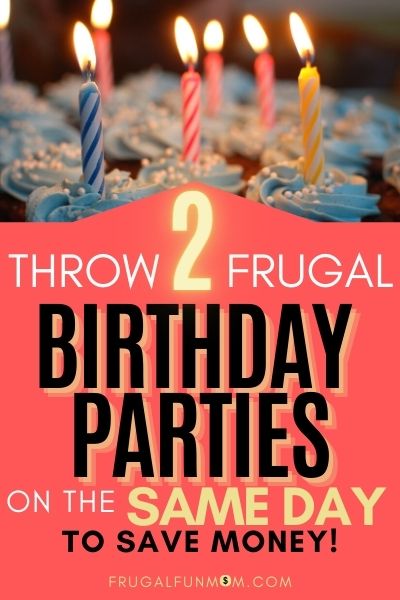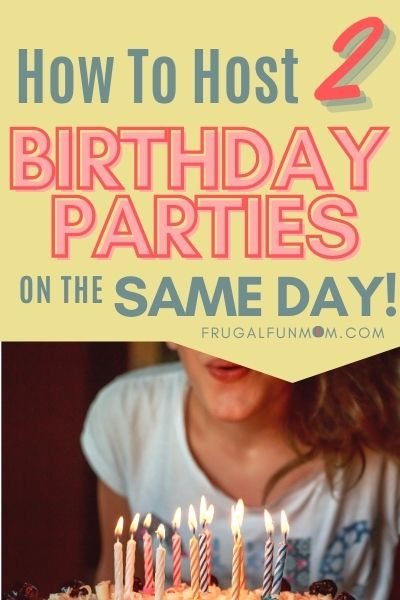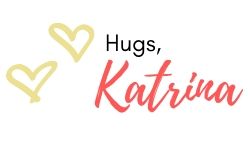 Photo by Adi Goldstein on Unsplash