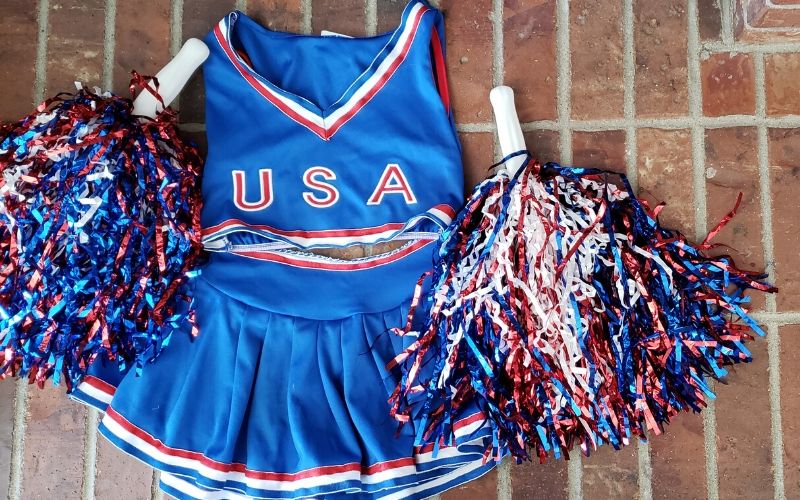 This post may contain affiliate links. Read my disclosure policy here.
Wondering how to throw a cheerleading birthday party your little cheerleader will love? I'm sharing my favorite cheer themed birthday party ideas so you can pull off a frugally fun party all your guests will love! Don't miss these budget friendly cheer party ideas from cake to games, and lots of other cheer party ideas!
Cheer your favorite birthday girl to victory and save money on her cheerleading birthday party! I'm sharing how to throw a frugal and fun cheerleading themed birthday party! Are you combing through Pinterest trying to figure out what type of theme to do for your daughter's birthday party?  Sit back and relax while you read this post, which will give you all the necessary info you need to throw an adorable Cheerleading themed birthday party.
Including the invitations, food, decorations, activities – and the best part – it won't break the bank – I've even included a price breakdown so you can see what I actually spent on this cute party! It can be done, a fabulous birthday party that is budget-friendly! All you need now is a fabulous tool to help you plan your party!
WISH PLANNING A PARTY WAS A PIECE OF CAKE?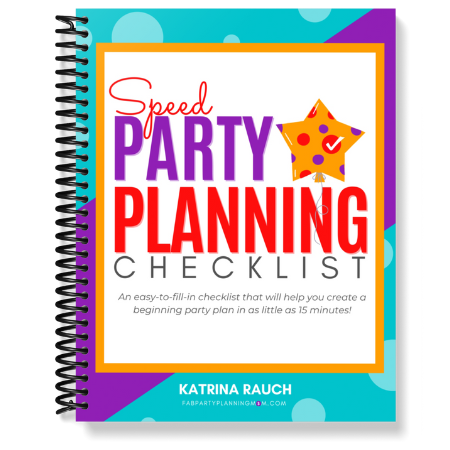 Now it can be! Let me help you begin the planning process with our easy-to-fill-in checklist. Our Speed Party Planning Checklist will help you begin creating a basic party plan in as little as 15 minutes! It's a game-changer - get it FREE for a limited time!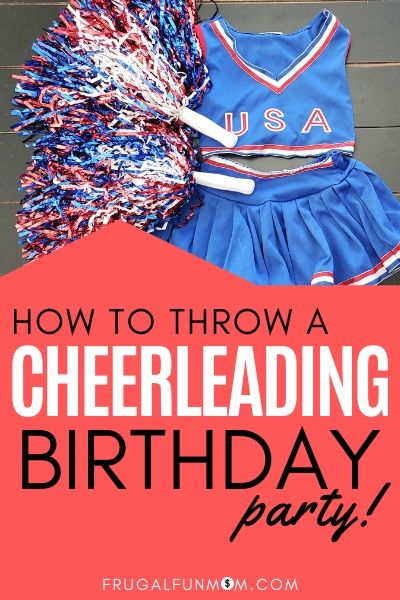 You Can Throw a Unique Birthday Party
If this is your first time joining me, you'll soon learn that I LOVE, LOVE, LOVE to throw really unique birthday parties for my kids that are all done for a bargain! There are lots of simple tricks that can help you save a LOT of money when you are putting together your next birthday party and I'd love to share them with you!
You can throw a unique, fun, and frugal birthday party! I can help!
Click To Tweet
After reading this post I hope you are inspired to host a really fun cheerleading birthday party for your daughter that all her friends will love, and I hope you feel confident that you CAN plan a super fun party on a budget and no one will know the difference!
Only Supplies You Need For a Budget Birthday Party
You may be sitting there, scratching your head and wondering if you really need all the bells and whistles for this party? You don't need tons of supplies in order to throw an adorable cheerleading party that she will love. All you need are some simple basics, and that's really about it.
Thankfully, I've been down this road of planning a kids birthday party so many times before that I finally decided to put together a master list of the essential supplies you need to throw a budget birthday party without sacrificing any of the fun! The supplies on this list go along with all 3 of our Choose Your Budget Party Guide parties. You'll love these 3 complete parties – especially when you see how small the budgets are for each one!
Check out the supply list now.
She Loved All Things Cheerleading
My daughter was turning six and was way into cheerleading. She had a bunch of cheer costumes that we found at garage sales over the years that she never wanted to take off.
She wore them to the grocery store and to the park and some nights, she even slept in them! I guess you could say she really LOVED cheerleading, and when her birthday rolled around, it was a no-brainer, we had to do a cheerleading birthday party with all her friends!
Planning a Cheerleading Birthday Party:
I like to plan my birthday party themes a couple months in advance so that I have a decent amount of time to prepare the games and activities. This also gives me a lot of time to start bargain shopping for all the things we will need for the party.
I got really lucky with her theme of a cheerleading birthday party, because not long after we picked Cheerleading, we were at the dollar store and they had some really cute red and blue pom-poms. We picked up enough for 12 girls and used them as our inspiration for the colors for the party.
Cheerleading Invitations: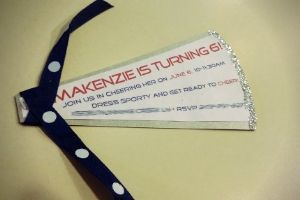 Her invitations were megaphones that we cut out and tied a ribbon around. We added some glitter to the end and were good to go! They were adorable, we made them ourselves and spent an afternoon decorating them.
I just googled megaphone clipart – picked one I liked and printed it out to fit inside the cute silver envelopes I had at home.
To make these, we used stuff we had at home – and were only making 12 invites, so it didn't take very long and was FREE.
We tend to use a lot of red stuff for our home parties so we always have a lot of red and blue paper around our house because I love red and my kids love blue! Of course we have TONS of glitter around the house too! Your local craft store should have blank cards and envelopes in bright colors that are perfect for this!
Homemade Party Decorations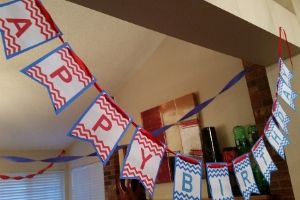 Going along with our blue, red, and silver color scheme, I made a very simple, but classy, birthday banner that I found from Chicfetti on Pinterest. This was really adorable!
I picked red and blue for the colors, and after I printed and cut it out, I reinforced it by mounting it to blue poster board.
Poster Board For The Win
I actually found the poster board at the grocery store in the clearance section, months before, when I was doing my regular grocery shopping for the week – total score, since they had a ton of them for $0.19 each.
You can find poster board for under $1 at most local grocery stores or try your local Dollar Store. I then punched holes in the top corners and laced a red ribbon through it that I picked up at the dollar store. The birthday banner came out really cute!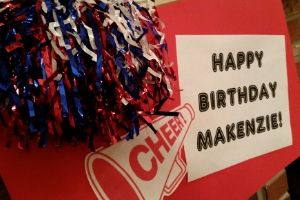 I also used the rest of the poster board that I found in clearance to make posters for the decorations. I simply printed out cheerleading clip art and sayings like "Go Team!", "Happy Birthday", "Go, Fight, Win!", etc. and glued them to the poster board.
I made several signs to hang around the house, as well as the front door for when guests arrived. You can make different sizes by cutting the poster board in half and even in fourths.
I also made one extra special sign that said "Happy 6th Birthday Makenzie" that I planned to have the girls use in their group photo! Besides the poster board, I didn't have to buy anything else to make these decorations and they came out super cute!
I also used red and blue streamers that we found at a garage sale the day before the party for $.05, a blue table cloth, and 9 helium balloons. You can get all of these supplies at the Dollar Tree, Walmart, or online.
---
SAVINGS TIP: Don't have the party during a typical meal time. Instead choose a time where you can serve light snacks and cake.
---
Food and Supplies: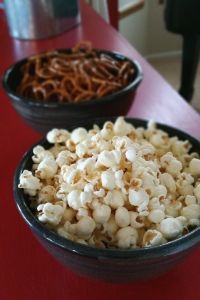 One way to save money for the party is to not have the party during a typical meal time so you don't have to serve all your guests lunch. Instead pick a time where you only need to provide light snacks and cake – my favorite time of the day for parties is either at 10am or 2pm.
I like to let the birthday girl pick her favorite snack that she wants to share, like popcorn or goldfish, which is a lot cheaper than serving all the guests pizza.
This year she chose popcorn and pretzels and I made a big batch of strawberry water to serve from my big drink dispenser. 
WISH PLANNING A PARTY WAS A PIECE OF CAKE?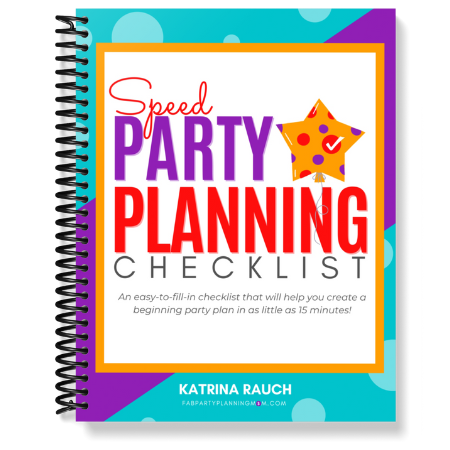 Now it can be! Let me help you begin the planning process with our easy-to-fill-in checklist. Our Speed Party Planning Checklist will help you begin creating a basic party plan in as little as 15 minutes! It's a game-changer - get it FREE for a limited time!
I used only 3 sliced strawberries that I had purchased with my groceries for the week (I didn't include these in my cost breakdown because I purchased them for my weekly groceries). Great way to serve a lot of drinks and keeping the cost to a minimum. All my paper products were leftovers from previous parties – again FREE!
---
For more tips on how to save money on the food and drinks at your next birthday party read this post: Save Money On Party Food
---
At-home birthday party savings tip – host the party in-between typical meal times and only serve cake and light snacks. You will save money on food!
Click To Tweet
---
SAVINGS TIP: Save on paper products when you buy solid color plates, napkins, cups, and utensils that you can use for your next party if you have any leftover.
---
Cheerleading Birthday Party Activities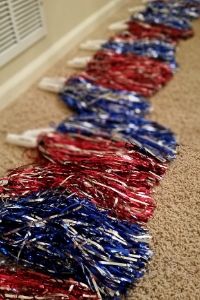 I've learned over the years that the best way to do a party is to keep your guests busy from the second they walk in the door until the minute they leave. Make sure to plan every minute of the party.
I like to plan every minute of my party and keep them kind of short – usually only 90 minutes. When the guests arrived, they were given their special set of pom poms.
Each set of pom poms had their name printed on the handles (I know what you are thinking..NO…I did not have these custom printed on…I simply wrote their names as neatly as I could with a black Sharpie marker), and these were also their "guest goody bag" take home gift.
Birthday Party Mom Sanity Tip: Plan every second of the party on paper with a party agenda! Keep the kids busy every minute!
Click To Tweet
Not Your Normal Goody Bags
Let's talk "Guest Goody Bags" for a moment: Don't spend a lot of money buying a bunch of small trinkets that will break 5 minutes later, and you know, every mom will throw in the trash when their kid is not looking.
Instead, give them one single item that goes along with the party and is something special. I like to spend about $1/per guest buying something unique – such as a set of pom poms from Dollar Tree.
In fact, there are a lot of things that go along with the party that you can find at the Dollar Tree and not all of it is junk.
Creative Face Painting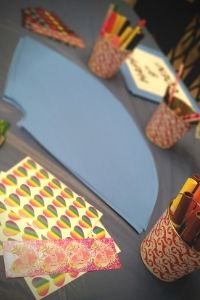 Next, we had the girls get their faces painted by a friend of mine. She had very simple choices (megaphone, heart with the word 'Cheer' in it, star, etc) and of course these all included glitter!
I even got my face painted! Just pick up a simple set of face paint from Walmart and practice some very simple designs the week before.
You do not need to hire a professional face painter, just do the best you can and I'm sure the girls will love it!
Decorate Your Own Megaphone:
After they all got their faces painted we had them color and decorate their own megaphones. I made my own flat megaphone template and traced them on to pieces of the poster board we found in clearance. I was able to get 2 megaphones per poster board.
The girls were able to color and decorate their megaphones and then we stapled together to form the shape of a meagaphone. These came out great and were super cute!
Make Your Own Hair Tie:
Next, we made hair ties out of the ribbon I found at the dollar store. I purchased 3 different colors, red, blue, and silver, and for the final color I used some white ribbon that I already had. We cut equal lengths of ribbon for each color and they simply tied them around an elastic hair tie.
After they all had their hair ties finished, we put their hair in ponytails. Now, what party is complete without glitter?! That's right, no party is complete without glitter- so we applied glitter to their faces and hair. Some of the girls said all the glitter was their favorite part! I love glitter – it's all over my house…but that's another story!
Take a Group Photo: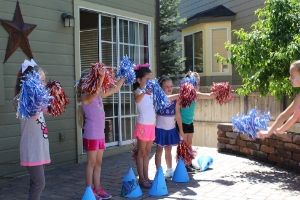 Next, we took a group photo with one of the poster board signs I made and then we headed outside to teach the girls a cheer!
Learn A Cheer:
My friend's daughter, who was a little bit older than all the other girls, very sweetly offered to create a cheer and teach it to the girls. It was adorable!
She created a very simple "birthday cheer" complete with arm motions and kicks. The cheer also included the use of their pom poms and megaphones! She did such a great job and kept it simple and easy! The girls all did a great job learning the cheer, and the birthday girl felt so special!
Don't Forget To Eat Cake: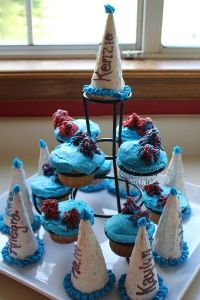 By now they had worked up an appetite, so we opened presents and ate cake! The cake was awesome! We made white chocolate dipped sugar cones to look like megaphones. Along with cupcakes decorated with buttercream pom poms.
I'm definitely not a cupcake decorating master, but as long as I can find a good sample on Pinterest, I'm usually willing to give different techniques a try.
Our pom pom cupcakes came out great and our birthday girl loved them, and honestly, that's really all that matters.
WISH PLANNING A PARTY WAS A PIECE OF CAKE?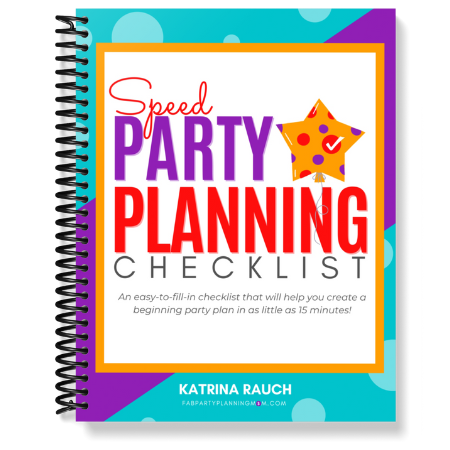 Now it can be! Let me help you begin the planning process with our easy-to-fill-in checklist. Our Speed Party Planning Checklist will help you begin creating a basic party plan in as little as 15 minutes! It's a game-changer - get it FREE for a limited time!
Also, if you don't think your decorating skills are up to par, that's ok. I know she will love that you tried, and she'll still think you did a great job! Just jump on Pinterest for ideas – there are lots of them and you can make really cute cupcakes that are super simple!
Cheerleading Birthday Party Price Breakdown:
Below is a cost breakdown of the supplies I purchased for this specific party and where I got them. The main stores I shopped at were Dollar Tree, my local grocery store, and Walmart. Again, you can also buy a lot of the basic essentials needed for this party and future parties here.
12 red and blue poster board sheets (found in clearance at grocery store) – $2.28
Stickers (Dollar Tree) – $2
3 spools of red and blue ribbon (Dollar Tree) – $3.00
9 helium balloons (Dollar Tree) – $9
Blue tablecloth (Dollar Tree) – $1
Sugar cones – $1.49 (grocery store)
Cake mix – $1 (Walmart)
Frosting – $2 (Walmart)
Chocolate candy melts – $8 (Walmart)
11 Pom poms sets (Dollar Tree) – $11
Popcorn – $3 (Walmart)
Pretzels – $2 (grocery store)
Total $45.77

Don't Spend A Lot Of Money
Her cheerleading birthday party was a huge success and I'm so glad we picked a cheerleading theme. It ended up being more fun than I thought it was going to be, and she and her friends had such a good time!
Throwing a great party doesn't have to be super expensive – you can still have a great time and save money in the process! Yes, all the planning can take time, but it's so worth to see the smile on her face during her party!
After you have mastered your next frugal birthday party, consider taking it up a notch and throwing two birthday parties on the same day!! Read this post on how you can throw two unique parties on the same day to maximize savings – How To Throw Two Birthday Parties On The Same Day
If you have done a cheerleading party, comment below and tell me about it! I'd love to hear your ideas! What other themes have you tried that have been memorable?
Other Birthday Party Planning Posts You Might Like: