Confession time. I have a stockpile and I'm going to show you how to build a stockpile too! My stockpile is full of BBQ sauce, salad dressing, cereal, and goldfish (not Nemo) crackers. If you look in my guest bathroom, you'll see that I still have a shower and it's not filled with a bunch of paper towels and… diaper boxes.
I have small stockpiles in a few locations around my house – such as, my small pantry (it's on the small side for sure, it's not a walk-in pantry) and a shelf in my hall closet (where I put all my cereal boxes) and a shelf in my master bathroom – but that's about it.
Keep reading and I'll share how you can build a stockpile the frugal way and use it successfully to save your family money without your husband thinking you are crazy and without having rolls of paper towels stored in your shower.
Necessary Stockpile Tool
[mailerlite_form form_id=7]
WISH PLANNING A PARTY WAS A PIECE OF CAKE?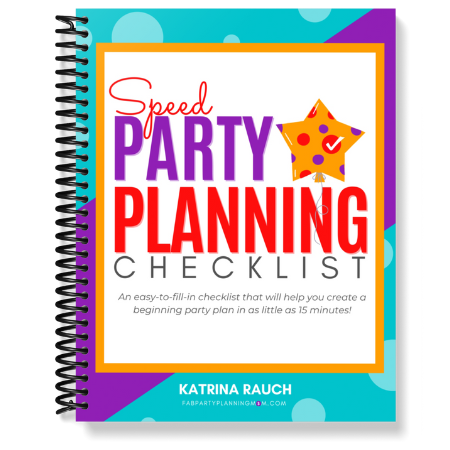 Now it can be! Let me help you begin the planning process with our easy-to-fill-in checklist. Our Speed Party Planning Checklist will help you begin creating a basic party plan in as little as 15 minutes! It's a game-changer - get it FREE for a limited time!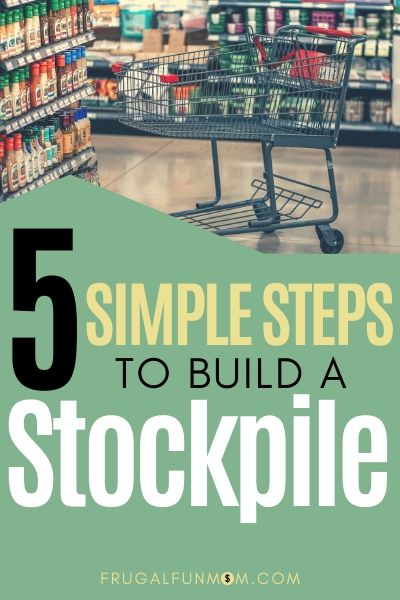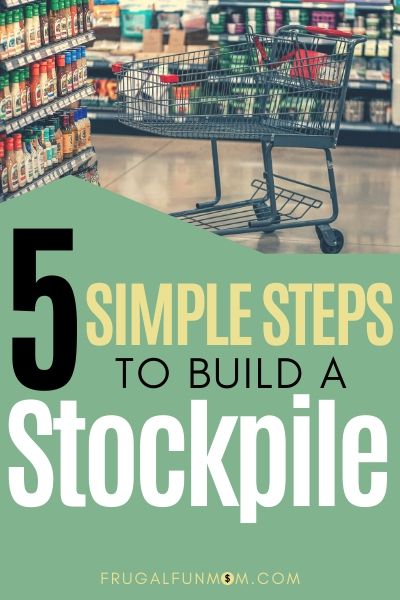 Where Stockpiles Came From:
Have you ever seen the Extreme Couponing Tv show and seen their giant stockpiles in their basements, garages, and even some in their showers (true story, I saw an episode once where a lady had her entire shower filled with rolls of toilet paper).
If you haven't seen that show, maybe you have known people who use extreme measures to get free items from the grocery store, or have a stash of extra items like, toothbrushes and toothpaste in their house? Have you ever wondered why they have all these extra items or how they got them all?
After reading this you will understand more about why you should have a stockpile and 5 simple steps that show you how to build a stockpile. Stockpiles are a brilliant idea that anyone can utilize, and with some intention your stockpile doesn't have to take over your whole house!
How to Build a Stockpile With Coupons: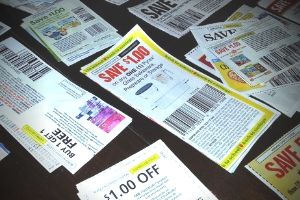 Coupons are a fabulously frugal way to save money! They are like free money and I'm all about free! I'm also about reality and don't believe you need to be extreme in order to save your family money.
A little can go a long way. A few years ago there was a huge couponing boom – using coupons was a hot topic and coupons fanatics were diving through trash cans trying to find every last coupon they could get their hands on! While I can understand where the motivation comes from to use coupons, I won't walk over hot coals to get them!
Coupons are a fabulously frugal way to save money!
Click To Tweet
---
The concept behind a stockpile is simple – buy low and save the difference.
---
Before I reveal the 5 simple steps to building a stockpile, let me define what a stockpile is.
What is a Stockpile?
---
Stockpile: a large supply of food, etc., gathered and held in reserve for use during a shortage or during a period of higher prices.
---
Exactly! A stockpile is a few duplicates of the same item that your family will use and consume within the next 2-9 months – that you bought when the price was low so you can use at times when the price is higher. Don't buy extras of an item unless it's on sale, or unless you have a coupon to get a better than regular price. You only want to stock up when it's a rock bottom price. Afterall, the whole point of a stockpile is to save your family money!
Only stock up on a grocery item when the item is on sale and can stack with a coupon.
Click To Tweet
Now that you know what a stockpile is, and why you should utilize one, let me tell you the 5 simple steps it takes to build a stockpile and I'll further explain how to use one. I know you can't wait, so keep reading!
5 Simple Steps To Build A Stockpile
Step 1: Combine Coupons with a Sale

Only stock up when the item is a rock bottom price either from a sale or by combining a sale with coupons.

Step 2: Only Buy What You Will Use

Don't buy a bunch of cat litter just because it's on sale, especially if you don't even have a cat! It's easy to get caught up in the excitement of how cheap an item is, but it's silly to buy that item if you won't even use it! Also, it's silly to buy 100 tubes of toothpaste just because they are on sale – it's hard for anyone to use 100 tubes before they expire – so consider just buying a few instead of clearing the shelves at the store. Just buy what your family can use – remember, it's still a good deal whether you buy 10 or 100.

Step 3: Start Out Small

Be patient and build your stockpile slowly. I know it's exciting when you start out and you want to build a big stockpile the first time you go to the store. You need to remember to start out small – build it slowly, with intention and make sure you only buy what your family will use. Not everything will be on sale the same week. This week, you can buy a few duplicates of brownie mix and cereal and then next week the sales will change and you can pick up extra toothpaste and shampoo. The week after it might be toilet paper and napkins that are at rock bottom prices. Just follow the sales cycles and be consistent with your shopping and eventually it will build up.

Step 4: Make Room For Your Stockpile

Make some room on a shelf in your pantry, bathroom, hall closet, garage, basement, etc. Find a place that you can store your stockpile items without infringing on your family space. Your family will thank you if your stockpile doesn't get so big that it blocks the TV!

Step 5: Be Consistent

In order to have an abundant stockpile that is always full, you need to be consistent about filling it. Each time you shop try to pick up a few items that will go into your stockpile based off the weekly sale ad. Find the rock bottom deals and match them up with your coupons and pick up only what your family will use. Don't stress if a week or two go by and you didn't find any good deals on things your family will use. In the upcoming weeks you will find plenty more things that you will want for your stockpile.
How to Grow a Stockpile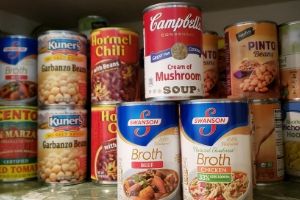 In order to use a stockpile properly, you need to remember a few key elements. Remember, stockpiles are grown when you buy sale items and stack the sale price with a coupon for an even better rock bottom price.
You can even double stack items. The way you do this is you wait until there is a sale at your local grocery store. Use paper coupons to the buy the items that are on sale and check to see if there are any Ibotta rebates on that item.
Many times you can get an item for free this way! There are a few occasions when I've even made money buying an item because the savings was higher than the price of the item. Ibotta is a wonderful app you need to start using if you don't already. Ibotta gives you cash back to buy items from the grocery store and it's super easy to use.
Join Ibotta Now!
New to Ibotta? Read this post to learn Why You Should Use Ibotta To Save Money and how it can earn you cash at the grocery store. Ready to give Ibotta a try?! You can sign up now via my referral code and you will earn $10! – sign up for Ibotta! Go ahead, sign up now, I'll wait. Don't miss out on that extra $10!
WISH PLANNING A PARTY WAS A PIECE OF CAKE?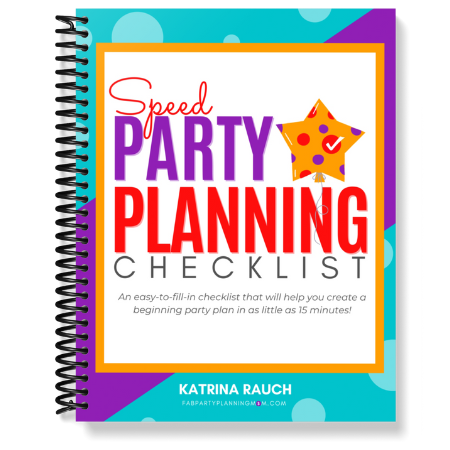 Now it can be! Let me help you begin the planning process with our easy-to-fill-in checklist. Our Speed Party Planning Checklist will help you begin creating a basic party plan in as little as 15 minutes! It's a game-changer - get it FREE for a limited time!
Double-stack coupons by using ibotta! Sign Up now and earn $10: https://ibotta.com/register?friend=pqzmg
Click To Tweet
Growing a stockpile doesn't have to be complicated or hard, and trust me when I tell you that I don't have piles and piles of toilet paper and cat food bulging out of my living room! My stockpile doesn't take up an extra room – it's right inside my small pantry.
Start Your Stockpile
Watch the below video on how to start your stockpile! This is a real life example of a deal I found in-store when I was shopping that I didn't plan to buy ahead of time. My grocery store was having a sale on popcorn and the popcorn boxes has peelie coupons attached to the boxes that you could use. Plus, each box of popcorn had a free Redbox movie code inside! Not only did I get the popcorn at a rock bottom price thanks to the sale and coupons, but I also got a free movie rental!
How Much You Should Buy
Try to buy enough to tide you over until the item will go on sale again for that rock bottom price. Let's say Cheerios are on sale this week for $1 a box (which is a good deal) and you have a coupon from the newspaper for $1 off 2 boxes, which will take your price down to $0.50 each box of cereal, then go ahead and buy as many as you have coupons for, if your family will use the cereal.
I stock up on cereal and canned veggies all the time – especially when they are a low price and I have coupons to match the sale, making them even cheaper. Overtime, when you only buy that specific item at it's rock bottom price you will save your family money.
Your pantry will be full of staple items – which also helps you save money because you will have items on hand to throw together a quick meal – and when you can cook at home instead of going out for dinner you will save money!
---
Speaking of being able to throw a meal together right from your pantry – read this post for more ideas on how to do this at the last minute – How to Figure Out What's For Dinner At The Last Minute.
---
Follow The Sales Cycles
Grocery store sales are cyclical – meaning they happen every 8-12 weeks depending on your local store. An item that is on sale today, such as BBQ sauce, will go on sale again for that price typically 8-12 weeks later. Of course, all stores are different and your local store may have a different sales cycle, but if you start to pay attention, you will start to notice a pattern.
You can also find out more about the sales patterns by contacting your local store. When an item that your family uses all the time, goes on sale, buy it at it's lowest price and try to find coupons that will make it even cheaper. Then, don't buy the item again until it goes on sale.
Your Stockpile Doesn't Have to Be Huge
Keep in mind, your stockpile doesn't have to be a giant pile in order to still benefit your family. A lot of people think that unless they have coupons coming out of their ears and their stockpile is gigantic, then they can't benefit from the concept of using a stockpile.
My stockpile ebbs and flows with the sales I encounter and the amount of coupons I can find to match those sales. Like I said before, you don't have to have 20 rolls of paper towels to still have a stockpile that is beneficial.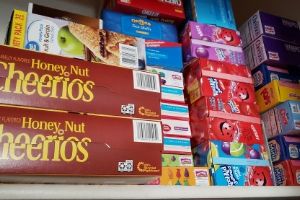 Right now, I have 9 boxes of cereal, 4 boxes of juice drinks, 4 bottles of BBQ sauce, 3 bottles of salad dressing, and 3 boxes brownie mix in my pantry stockpile.
In my bathroom I have 8 tubes of toothpaste, 5 extra toothbrushes, 5 bottles of hairspray, 3 bottles of shampoo, 6 bottles of conditioner, and 3 extra razors. That's the extent of my stockpile at this very moment, and it works well for me!
Stockpiles don't have to be huge in order to benefit your family and save you money.
Click To Tweet
Stockpiles Change All The Time
My experience with having a stockpile has been helpful! I like having extras of stuff we use all the time. We use a lot of peanut butter and when it goes super low I will buy 8-10 of them! My stockpile changes all the time, some times it's full, and other months it's not very big.
Some times I have tons of cereal and other times it's full of shampoo and deodorant. The key is just be consistent, and only buy stuff you will use when it's on sale, and when you have a coupon!
WISH PLANNING A PARTY WAS A PIECE OF CAKE?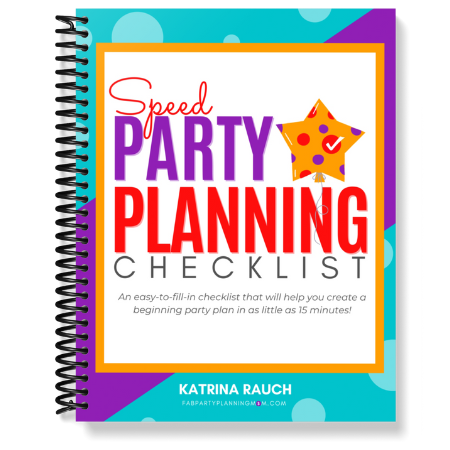 Now it can be! Let me help you begin the planning process with our easy-to-fill-in checklist. Our Speed Party Planning Checklist will help you begin creating a basic party plan in as little as 15 minutes! It's a game-changer - get it FREE for a limited time!
I hope you are excited to get out there and build a stockpile! I hope I've encouraged you to see that building a successful stockpile doesn't have to be complicated or frustrating. It's more about being consistent and not trying to do too much at one time.
Go ahead and give it a try and let me know how it goes! I'd be happy to answer any questions you might have about building a stockpile, plus I'd love to know some of your ideas on how you built your stockpile! I know you can do it! Go momma go! Hugs!
Don't Forget Your Daily Coupon Checklist
Before you go, don't forget to snag your free Daily Coupon Checklist so you can start building your stockpile during your next grocery shopping trip. Sign up below and I'll email it right to you!
[mailerlite_form form_id=7]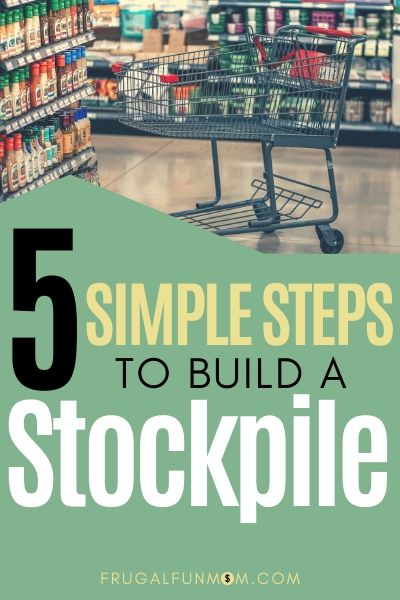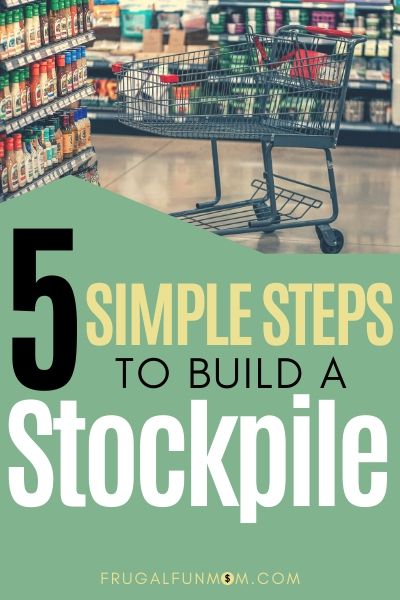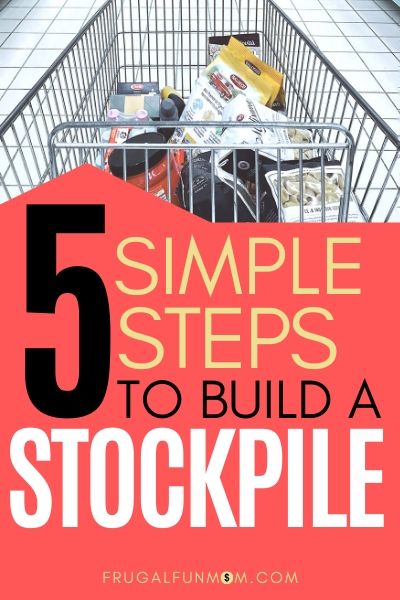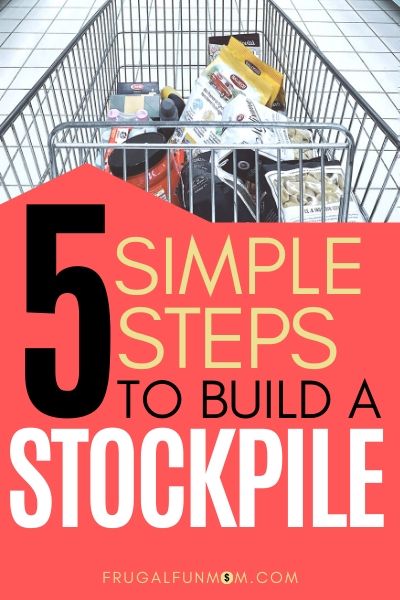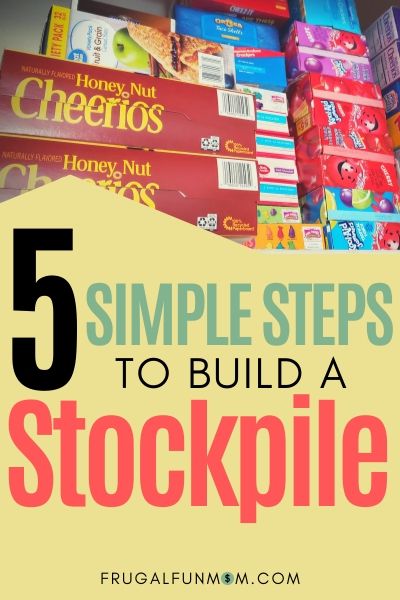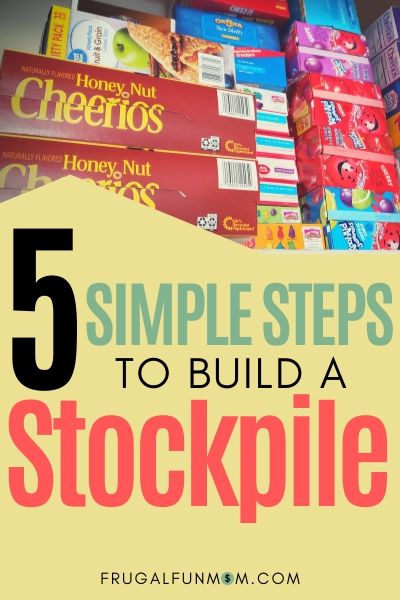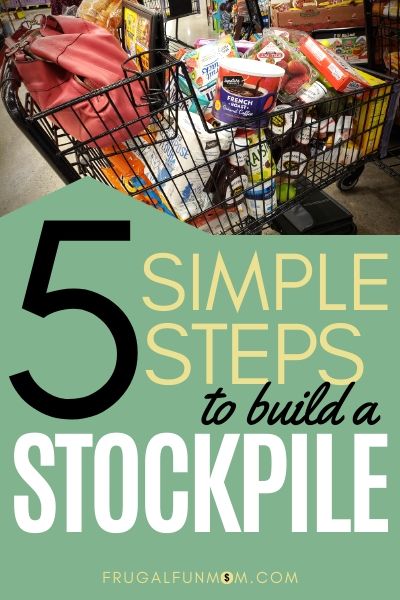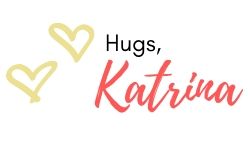 Photo by Fancycrave on Unsplash