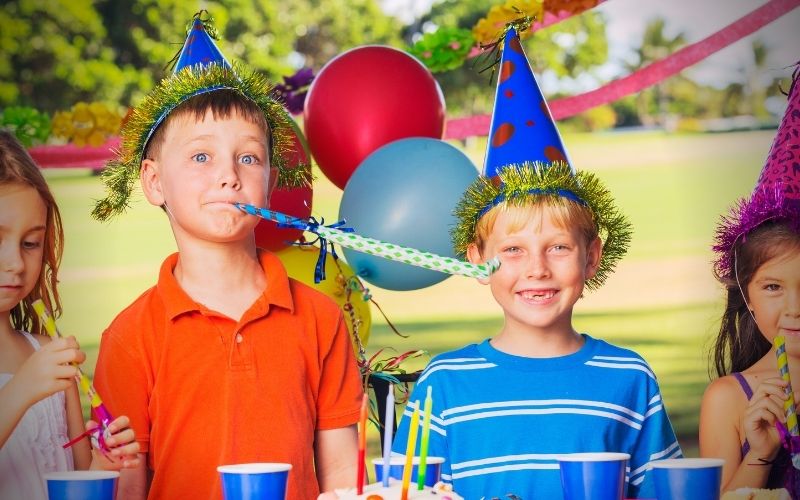 This post may contain affiliate links. Read my disclosure policy here.
Wondering the birthday party planning mistakes to avoid before you plan your child's party? Before you get too far into the planning, make sure you read this list of the 11 Birthday Party Planning Mistakes to Avoid so that you can ensure an awesome kids birthday party that your child will love along with all his/her friends!
Are you in the middle of planning a birthday party for your child and wanting to make sure it's the best party ever? I've been in your shoes more times than I count and after all my years of planning parties for my three kids, I'm going to share some of the biggest mistakes I've made when it comes to planning a birthday party, so you can avoid them!
Birthday party mistakes do happen, but if you know what to look for ahead of time, they don't have to ruin the party! Hang tight and I'll share my list of 11 birthday party planning mistakes to avoid.
WISH PLANNING A PARTY WAS A PIECE OF CAKE?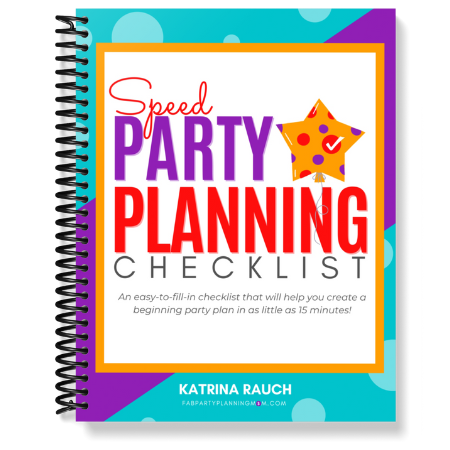 Now it can be! Let me help you begin the planning process with our easy-to-fill-in checklist. Our Speed Party Planning Checklist will help you begin creating a basic party plan in as little as 15 minutes! It's a game-changer - get it FREE for a limited time!
Want to remember this post? Pin this post, 11 Birthday Party Planning Mistakes to Avoid, to your favorite Pinterest board right now!
Birthday Party Confession
I have a confession to make…
I used to hate planning birthday parties for my kids.
Yep. I said it.
I'm sure you are shocked right?
But it's the truth.
Birthday Party Planning Stress
I remember when my oldest son was turning 4 (keep in mind, he is now almost 15), and my daughter was almost 1. I was a very tired momma chasing around my toddler and my baby all the time.
Both of my kids have June birthdays only 15 days apart, so while I was planning my son's birthday, I was also thinking about what I should do for my daughter's 1st birthday. I had all sorts of ideas swimming around in my head and I was freaking out.
For this special 4th birthday, my in-laws also decided to come visit for a few weeks. Because they were coming out to stay with us, I decided it made sense to try and plan my daughter's birthday for the same week so the in-laws could be part of both parties – right?
Have you ever been here before? Can you relate?
I love my in-laws very much, but I was stressed to the max trying to plan both of their parties. And, I LOVE planning parties, but this time, I was losing my mind!
Birthday Reservations Needed
My son was super excited to have a fire truck themed party at the park with all his buddies. We hadn't lived in our neighborhood for very long and I had NO idea you had to reserve the park gazebo in order to have a party. I assumed that it was a public park, so first come – first served.
WRONG!
I found out the hard way that although I got there early to decorate with streamers and balloons and staked out my spot, that someone else had actually reserved the gazebo for their party. It turned out to be a complete disaster! Keep reading…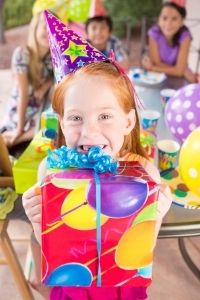 The More The Merrier
Here's how it all happened…
I arrived to the park early – 9am – to decorate inside the covered gazebo, for our party that started at 10am. We had invited lots of people, I mean, it was a park, so the more the merrier -right?!
By 10am the park was busy with lots of other people AND all our guests – after all, it was the end of June on a gorgeous, sunny Saturday morning. In fact, it was starting to get HOT out! I had attempted to make a 3D version of a fire truck for my son's cake – I'm no cake decorator, but I did try, and I was proud of it. What I wasn't counting on was just how warm it got.
Kicked Out!
You see, at 11am, right when me and all our party guests were headed to the gazebo to open gifts and eat cake, I saw a woman walking over to us at gazebo, carrying a ton of balloons and decorations. I had no idea who she was.
She, not so nicely, informed me that she had reserved the gazebo and we had to leave immediately. I had about 40 of my guests who were trying to take refuge from the heat, looking at me with shocked expressions.
I felt like a heel.
How could I not know you had to reserve the gazebo?
I apologized profusely, and told the lady we could hurry with our gifts and cake and be done, but she was adamant that we leave immediately. She even got on the phone with the local parks authority to prove her right to use the gazebo.
I was totally embarrassed, and felt like an idiot. I hurriedly started tearing down decorations and gathering up all the gifts. We moved everything, including my homemade fire truck cake to the one lone table that was located in direct sunlight outside the gazebo, so we could finish our party with some sense of dignity.
Melted Cake?
But take a wild guess what happened?
The sun immediately started to melt the cake that I had spent so many hours making. Sadly, in my haste to get everything out of this other woman's way, my cake melted into a puddle of frosting.
Yep. Utter failure.
You bet there were tears – not from the birthday boy, but from me. I was so embarrassed and angry.
Lessons Learned
That birthday will never be in my memories as a fun party. But I learned a lot. And I will tell you that my son, still to this day, doesn't have the same memories that I do of that day. He remembers the squirt gun station we had for all his friends to get wet, and also that he got his first scooter as a gift from his grandparents.
He loved his party!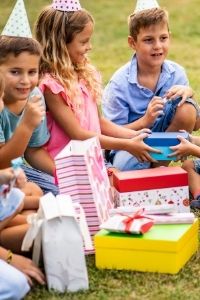 Even me, the mom who sells birthday party tools to help other moms have outstanding birthday parties, doesn't always get it right. Very rarely do I pull off a perfect party.
In fact, almost every party has it's flaws. I always forget something, or plan an activity that doesn't work quite right, or leave it to me to not try out the activity first and find that it's a total flop with the kids.
But thankfully they always are fun despite what happens. Kids are so resilient and they tend to find the good in all situations. What you might think is a total failure, may end up being your child's favorite party ever!
WISH PLANNING A PARTY WAS A PIECE OF CAKE?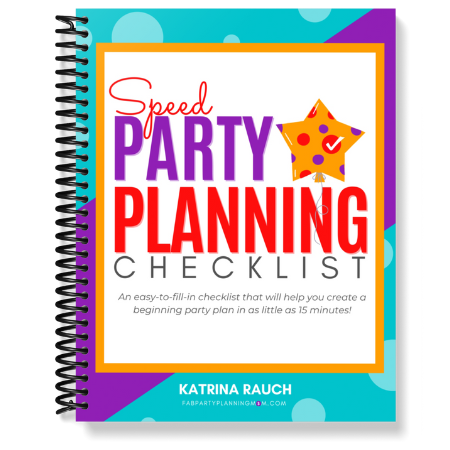 Now it can be! Let me help you begin the planning process with our easy-to-fill-in checklist. Our Speed Party Planning Checklist will help you begin creating a basic party plan in as little as 15 minutes! It's a game-changer - get it FREE for a limited time!
Just to help make sure you your child's party is the best it can be, here is a list of the 11 Birthday Party Planning Mistakes To Avoid.
11 Party Mistakes to Avoid
1. Not Having Reservations
Get reservations if necessary, especially if you are hosting the party at a public park or other public location.
2. Ignoring Nap Time
Don't plan a party for your child during their nap time. Make sure your child is fresh, happy, and well rested before attempting to throw them a party or you're in for quite a surprise when your child melts into tears over the littlest thing.
3. Forgetting to Check With The BFF First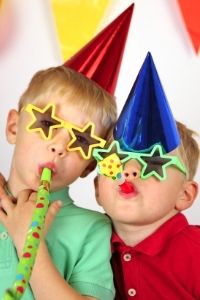 If your child has a best friend that must to be in attendance at the party, make sure you check with the best friend's mother before picking a date for your party. I always like to chat with the moms of my kid's best friends before planning their party so we can make sure their favorite friends are there for the fun. Parties aren't the same without your best friends!
4. Lack of a Plan & Agenda
Make a simple agenda and plan every minute of your party. Not only will it help you keep the party moving and flowing, it will ensure that the kids are busy and occupied and not tearing up your house.
Plus, you will make sure that your guests feel comfortable because there will something for the them to do the entire time they are at your party.
In fact, I have the perfect tool for you to quickly and easily get all your party details organized – our Speed Party Planning Tool Kit. The best part, it's ON SALE NOW for a limited time!
5. Missing Planned Fun Activities
Every great party needs to have fun activities to do! It's even better when the activities go along with the theme of the party! But regardless, you would be making a huge mistake if you don't have planned things for the kids to do during the party. It may lead to a house that looks like a pack of wild animals ran through it!
6. Not Being Invited To the Party
Nothing is worse than being a kid, knowing a party is happening, and not being invited. Especially when the party invitations are being handed out at school in front of everyone. Save the guilt and make sure you snail mail the invitations, text, email, or just hand them out when it's not in front of a crowd.
7. Lack of Clear Directions
Make sure your invitations give very clear directions to your guests of who is invited, if siblings can come along, and if you want the parents to stay for the party, or if they can just drop and go.
Don't assume your guests can read your mind. If siblings are invited too, then state that clearly on the invite. If you don't want the parents to stay, make sure your invitation clearly says, "You can drop your child off at 1pm and pick them up at 3pm."
8. Not Having a Back-Up Plan
If your party is going to be outside, even if it's going to be hosted in your backyard, make sure you have a back up plan if the weather doesn't cooperate.
My youngest son's birthday is in November and I always have a back-up plan for his party because I never know if we will have snow, rain, cold, or sun for his special day. I typically will plan outdoor activities but will make sure that I can also move a lot of them inside if the weather doesn't cooperate.
9. Forgetting to Focus on The Fun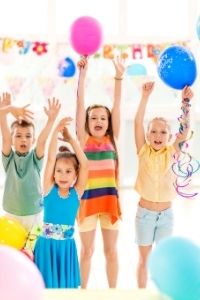 Fun is the most important part of a birthday party. A lot of times, parents might focus a lot of their time and attention on the decorations for the party instead of the fun. Kids don't care what the party looks like, or that you made special name tags with clever names for the food, they care about the fun! Focus on filling the party with lots of fun activities, and don't worry so much about the decorations.
10. Not Asking For Help
Mom, hear me – ask your friends for help! I'll bet you have plenty of friends with varying talents and gifts, ask them to share their talents for your party! If you have a friend that is good at drawing, see if they would mind being your face painter.
It's also a good idea to have a friend who might help serve food, and another friend who can take photos of the party for you while you are busy running the party. Just ask for help!
11. Not Having a Budget
This is the most important mistake to pay attention to. You must have a budget for your party, or it will be so easy to overspend. Parties are fun, but there are so many ways to save money and still make your party awesome!
Set your budget and stick to it! In fact, if you are looking for a ready-made party plan where you get to choose the budget – and still have an awesome party – grab my Choose Your Party Guide right now! You'll love it!
There you have it! Our 11 birthday party planning mistakes to avoid and plenty of tips on how to make your upcoming party one your child will love!
Other Birthday Party Posts You Might Like:
Other Party Planning Tools You Might Like: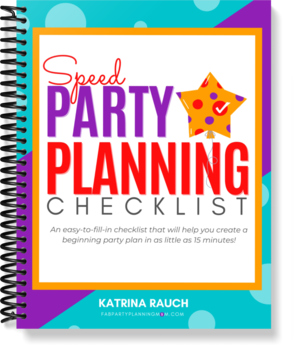 Wondering where to begin when planning a party?
If you want an easy tool that can help you begin the planning process for your next party, then our Speed Party Planning Checklist is the perfect first step!
Plus, it's my gift to you – hurry, it's only free for a limited time! You can grab it here.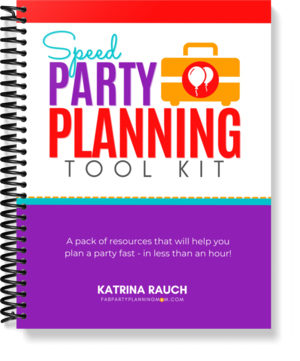 It's no secret that having all the nitty gritty details organized for your upcoming party will help you feel calm, relaxed and ready to focus on the fun!
This tool kit includes 6 party planning worksheets, including our wildly popular Speed Party Planning Checklist! Plus, a lot of extra resources.
This pack of resources will help you organize and plan your party details fast – in less than an hour!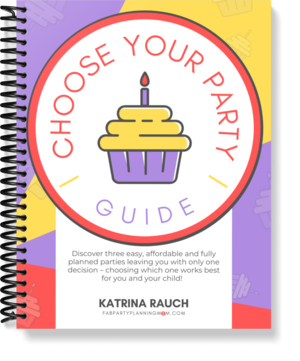 Our must-have guide includes three completely planned party plans leaving you with only one decision – simply picking which one works best for you & your child!
WISH PLANNING A PARTY WAS A PIECE OF CAKE?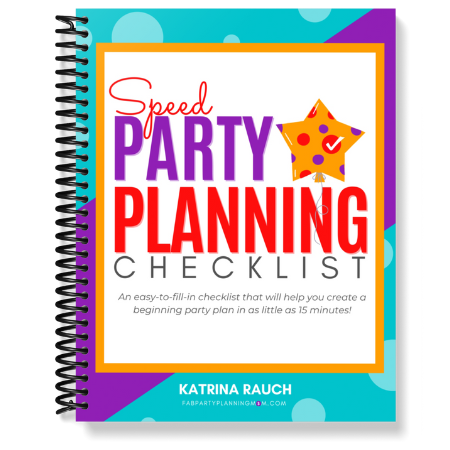 Now it can be! Let me help you begin the planning process with our easy-to-fill-in checklist. Our Speed Party Planning Checklist will help you begin creating a basic party plan in as little as 15 minutes! It's a game-changer - get it FREE for a limited time!
Planning your child's birthday party doesn't have to be stressful – if you have the right tools! Yep, you can throw an in-home party without spending a lot of money, and I promise you won't lose your mind in the process!
In fact, you'll be super proud of yourself!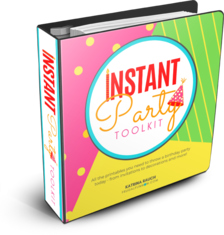 Did you wait until the last minute to put your child's birthday party together? Our Instant Party Toolkit is just what you need! This bundle of essential printables is just what you need to throw a fabulous party for your child in an hour or less, and includes
This digital toolkit is full of printables you can simply print out and know you have everything you need from decorations to invitations done and ready to go!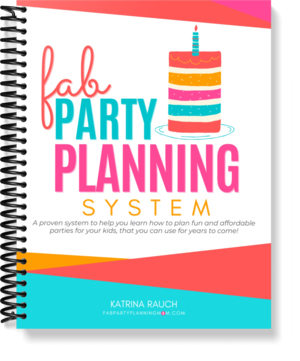 If you wish party planning wasn't so hard, and want to finally learn HOW to plan a party the easy way, you'll love this system! In this system I teach you 8 lesson on how to plan all aspects of a party the way I do it!
FAB Party Planning System is just what you need to plan amazing parties for years to come!
---
Want to remember this post? Pin this post, 11 Birthday Party Planning Mistakes to Avoid, to your favorite Pinterest board right now